We are sure you have heard the word "Fiverr" many times if you are connected with the digital world or with the people who are doing work from home these days. During the Covid-19 pandemic, the word Fiverr got more and more popular due to work-from-home facilities. Besides, Fiverr is now a top-notch brand and almost all the people who are connected with the digital community know about it.
Let's start with a short history of the Fiverr Freelance marketplace. It was founded in February 2010 by two people named Micha Kaufman and Shai Wininger. It is an Israel-based Company established with the concept of providing a two-sided platform for offering and buying services worldwide.  They started with the services of writing, translation, video edition, and programming initiatives.
In a nutshell, Fiverr freelance is now considered to be one of the top 10 best freelancing marketplaces worldwide. According to a report, the company generated almost $107.1 million for the 2019 fiscal year.
Isn't it fascinating about Fiverr? Undoubtedly, it is. Stay tuned with us, we are going to share all the details about Fiverr company with you. So, let's get started!
Fiverr Freelance
We are going to kick-start with the introduction and in-depth details of Fiverr and its working. Don't worry! You will find it exciting.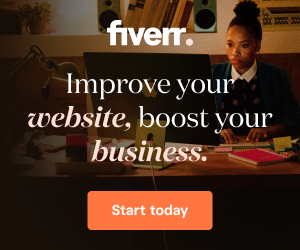 What is Fiverr?
Fiverr is one of the top freelancing marketplaces that offer thousands of dual-side services (both technical & non-technical). Founded as a starter website in 2010 and gained popularity due to its user interface and many other aspects. To cut a long story short Fiverr was hosting up to 1.3 million gigs (services) till the end of 2012.
In addition, Fiverr is a business solution designed for both individuals and teams (individuals & Agencies). This company has a state-of-the-art reputation and proven business experience, along with a huge setup. Therefore, you can also polish your future as both the seller and the buyer.
Primarily, it was a brief introduction of Fiverr. Let's move on to the history of Fiverr freelance.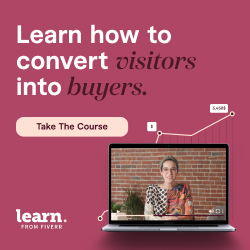 Detailed History of Fiverr Freelance
We acknowledge that people are curious about the history of this state-of-the-art company, its revenue stats, rankings, and how they are surviving in the global market. Let's explore this further!
The website was founded in early 2010 and started getting popular in 2012 with a huge number of services in the form of Gigs. Don't worry! We have explained the concept of gigs further in this article. Till then, the transaction volume was boosted up to 600%. It was considered to be one of the top 100 websites in the United States of America and the top 200 worldwide in 2013.
With hiring experts day by day, Fiverr started to work for their advancements as it was the need to survive in the market. At the end of 2013, they released their first IOS app in the Apple App Store. In the same way, the Android app was released after some weeks on Google Play Store. That was a point where Fiverr started getting more buyers and sellers because of the flexibility of use, even on iPhones or Android Phones.
With the passage of time, Fiverr announced increased revenue and funding also. After that, something wrong happens. Amazon took legal action against 1000+ Fiverr sellers claiming to provide fake reviews to boost the Fiverr profile. Due to this reason, Fiverr updated its policies and removed such counterfeit people from the marketplace. Then they started their testing system while joining the Fiverr platform, and many other improvements were made by the company.
In addition, it was listed on the NYSE due to offering huge services with a completely transparent process. Till then, the company is taking big steps in improving its system and also for the betterment of sellers and buyers.
We Suggest reading The Benefits of Freelancing After 60

More about Fiverr Freelance Marketplace
As the name suggests, it's a freelancing marketplace. Even so, what's Fiverr mean? Is it a brand name or anything else? Is there any hidden term in the name of this company? The answer is yes. The Initiative of this company was to sell and buy the services at a very low price. There were two reasons behind this concept, one is to compete with the other top freelancing marketplaces and another was to facilitate other people who can't afford high-paying services. This does not mean this website only offers services at a low price, but you can get services at both high and low prices here.
Well, back to the topic again. The main initiative of Fiverr freelance is to offer services starting from only $5. That's why they wanted to buy a domain name like five.com, but unfortunately, it was taken at that time. Further, they thought to give the name similar to the addiction (fever). You will be amazed to know that it was also taken woefully. After all, they have chosen the name "Fiverr " as their marketplace name.
Although, the name is short and easy to remember and is considered the brand name of the company.

How Does Fiverr Work?
Fiverr Freelance works like an escrow that offers trusted dealings for both services and money. It works by taking the payments from the buyers in advance in terms of purchasing "Gig" of any services such as web design, social media marketing, copywriting, and much more. The initial price of the gig was only $5, but now you are independent to choose it on your own according to the service offered.
So, when a gig is purchased by a buyer, the payment is saved in the Fiverr escrow. The seller then returns the work to the buyer, and then Fiverr waits for the buyer to acknowledge that the work he received is fine and according to his requirements.
After completion of the order, the payment (80% of the total amount) is released in the seller's account, and it takes some days to clear. Lastly, if we want to get deeper, you will see the dual faces of Fiverr Freelance. One is for sellers, and the second is for buyers.
Fiverr Terms
There are many terms Fiverr uses when you sign up there. However, some are very important that needs to be explained. Check out the most important Fiverr terms in the following:
Buyer: A buyer is a person who signs up to purchase services from others. When he purchases a service, it is referred to as gig purchasing.
Seller: When you want to offer services as an individual, you sign up as a freelancer or seller, and you offer services with the help of gigs.
GIG: Gig is the service type that you offer on Fiverr, such as, "I will do speed optimization of your website".
Post a Request: A buyer can post the need for a service with the help of this term, whatever he needs.
Is Fiverr For You?
It's a common query that people ask, who can join Fiverr Freelance? We want to give you a simple answer Fiverr is for all those who want to buy services or also want to sell their services by working from home, and it is now called Digital Nomads. You get paid for working on your free hours, and you can make a handsome amount without any physical interaction.
The earnings are not limited to these points. You can join the Fiverr team by going to the career section. Besides this, Fiverr has enlarged its company by offering different other things such as Fiverr business, Fiverr jobs, Fiverr pro, Fiverr app, Fiverr account, Fiverr affiliates, and much more.

Fiverr And.Co
And.Co is a business management tool for freelancers. Leif Abraham and Martin Strutz designed it. The tool allows freelancers and solopreneurs to save time in running their businesses. Apart from it, And.Co offers a wide variety of features in the form of a suit, offering solutions to the many problems of freelancers. You can perform many tasks, including payments, invoicing, task management, tracking, and proposals by using this app.
In fact, And.Co simultaneously works with 8 different apps at the same time to execute your assigned tasks. Basically, the tools integrate all your business management tasks while giving efficiency to your work. This also includes the time tracking to enter your invoices that takes a lot of time while doing it manually.
Apart from it, And.Co gives you an automatic reminder when you are due on a payment. Thus, allowing it to automatically file your online payment dues in no time. All these features of And.Co reduces your business management time and enables you to explore your genius part.
Why does And.Co make a difference?
And.Co is not just a Time Tracker, Task Manager, or an invoicing app? In fact, it is more than that. You can find hundreds of apps online for each said task, but what makes And.Co stands tall among its counterparts in that it is an ecosystem that integrates all your business tasks in one place.
It means you do not need to remember the password for every app, or you do not have to open a different tab for each app anymore. And.Co produces impeccable workflow in each business task. Hence, your work proposal becomes a contract.
Best Customer Support
Every time a freelancer sings up on And.co, they get a personal chief operator during working hours. The Chief Operator provides help to the freelancers with any business management-related queries via live chat. Apart from it, you can also ask software-related questions if you are facing trouble while operating.
And.Co offers award-winning Customer Support to their users. Their customer care service won the Silver at Stevie Awards 2019.
Excellent Features with Each New Update
And.Co promises to make things easier for its users. In this regard, they are always open to value-adding suggestions. You can always give a suggestion about how you want And.Co to do the things. They then use these suggestions to add new features to their business management tool. Therefore, you can always send your Ideas to move things in a forwarding direction.
Who Made And.Co?
After realizing the struggles and problems of modern-day freelancers, Leif Abraham and Martin Strutz teamed up to found And.Co. At that time, Freelancing software provided freedom and flexibility to the users. However, day-to-day needs were still going unaddressed.
Abraham and Strutz stepped up to provide a solution in the form of And.Co. The Business Management Tool started providing advantages of a large company to the freelancers without giving up their freedom of work.
And.Co was built in 2015 and its headquarters are in New York. They joined the world's largest Freelancing platform Fiverr in 2018 to provide creative and digital services.
Fiverr Business
Fiverr Business Version allows you to set up your team of freelancers to do different projects online. It offers advanced tools for different types of projects. You can access a team of verified and experienced freelancers on Fiverr Business to complete your projects.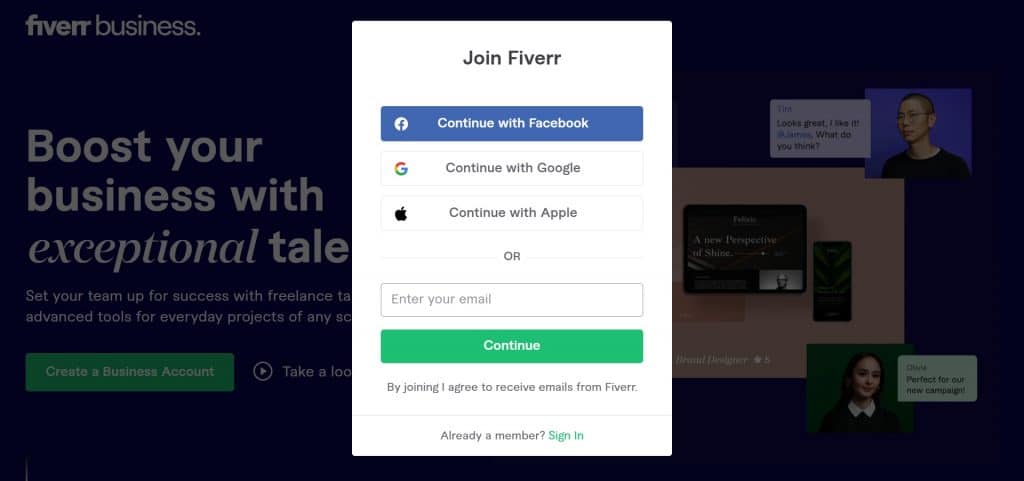 Get Access to a log of Verified Freelancers
If you are having trouble while hiring freelancers, you can always get help from the team success managers at Fiverr Business. This saves a lot of your time from doing interviews and analyzing your future employees. These Team managers are best at their jobs of matching the best freelancing candidate for your project.
Make use of Scattered Feedbacks
In fact, Fiverr Business is a workplace to manage your projects, sharing guidelines, and co-operating with your team on different projects. Thus, you can change scattered feedback into productive teamwork by using Fiverr Business to complete your tasks.
Monitor Your Team Progress
Not only this, but you can also monitor the progress of your freelancers at Fiverr Business. In addition to this, it also allows you to simplify things with transparency. Apart from this, you can approve transactions, allocate budgets along with monitoring your team's progress.
Fiverr Business Features
Fiverr Business features include Personalized Business management, a Verified Freelancer catalog, and budget flow. Moreover, you can also assign up to 50 users to your Fiverr Business account.
Personal Business Manager
Verified Freelancers Catalog
Tools for Collaboration
Customize Work Management
Suitable Payment Methods
Get up to 50 users

How to Set up an account on Fiverr Business?
You can follow these steps to create your Fiverr Business account.
Log in with your Fiverr account.
Click Join Fiverr Business.
Put the required details about yourself. Click Next
Enter the details about your business and then click next.
Add a Payment Card.
Click Create Your Business Workplace
Invite people to join your team and add their email addresses; click next
You will get a redirect to your business workplace.
If you do not have a website for your business yet, you can add your social profiles like Facebook, Instagram, and Twitter. Or, If you are a new user and do not own a Fiverr account then you should follow the steps below to create your Fiverr Business account.
More Information about Fiverr Account Set Up
If you put the mail of an already existing account on Fiverr, you will have to use a different mail. Or you can sign in at the bottom of the page.
Once logged in, you will have to tell whether or not you want to keep or merge both profiles. If you choose yes, you will have to replace the existing Fiverr account mail. Then Fiverr will redirect you to the Fiverr Business Log in page.
When you click on learn more, you will get a notification that your personal Fiverr account balance has become private. You can't spend your personal account balance on a Fiverr Business account.
If you do not want to merge your both accounts, click on create a new Fiverr account at the bottom of the page.
Select check box with Fiverr business Terms and conditions.4
Click on Convert my account, but your account will not convert back unless you access it as an admin.
Finally, you will get an email for verification. Once you verify, you can use your Fiverr Business account.
Fiverr Learn
As a top freelancer marketplace, Fiverr gives value to professional services such as Fiverr logo design and more. Besides this, it also offers concession programs with the help of the Fiverr promo code. To maintain the quality of their services, they have started to offer state-of-the-art training programs to make the freelancer professional according to the demands of the seller at Fiverr.
Well, where you are from, Israel or any other place you can take their courses. The reason is, Fiverr offers all these courses online. They deliver classes via video classes platform, and the top freelancers and experts of specific category or service deliver all these lectures. The company picks only those instructors who have distinguish knowledge in their fields.
Keep in mind that the courses are not ordinary but contain comprehensive knowledge and practical. Further, they analyze your learning progress with the help of different quizzes, exercises, assignments and tests.

Fiverr Course
Worried about what you will get after acquiring Fiverr lean? Don't worry! We are going to explain it thoroughly. The primary target of this course is to level up your practical skills and grow professionally. Plus, you would be able to showcase your new skills and capabilities after passing the Fiverr learn the final test. Moreover, your account will get more visibility at Fiverr to the buyers.
The conversation does not end here. You will get a course completion badge on your seller profile page that indicates that you have learned these skills from the trusted platform of Fiverr. It will definitely help the buyers to know more about you and your background and pick up your gigs.
If you still do not get it, let's tell you what does actually means by the course completion?
You have to watch all the provided video content.
You will have to tell about the completion of your course quizzes, exercises, tests, and final exam.
Tip: Taking a course from Fiverr learn is one of the other factors that impact the ranking of your Fiverr profile.
Courses Offered by Fiverr Learn
There are numerous courses that Fiverr learn offer, but we have enlisted the most demanding courses below:
Virtual and Social Media Marketing.
Social Media Content Marketing.
YouTube Marketing.
Web Development.
Search Engine Optimization.
Search Engine Marketing.
Professional Website.
Game Development and more.
How To Access Learn From Fiverr
The access to learn from Fiverr is easy and straightforward.
First of all, log in to your Fiverr account.
Go to the top-right corner and click on your profile image > My Profile.
Choose a course, click on the "Enroll Now" button to get for a Fiver learn course.
Fiverr Sub-Affiliates
Fiverr is now competing with other freelance marketplaces as a top-rated and well-reputed company. It is offering Fiverr affiliate or Fiverr sub-affiliate programs. From the given plans, you can choose your desired commission plan and can relish the commission from Fiverr. According to Fiverr, you can now earn up to $1fees0 for a single conversion by joining the Fiverr affiliate program.
Join Fiverr Affiliate: Yes, there are no charges or fee to join the Fiverr affiliate program. Go and sign up for affiliate programs and get access to the marketing tools, materials, and more.
Promote Fiverr: Share Fiverr with their specified and target audience and be a marketing expert with Fiverr.
Start Earning Commission: After successfully targeting the desired audience, earn a handsome amount of money. You can visit the site to check the details and Fiverr commission plans.
Advantages of Fiverr Affiliate
Following are some major benefits that you can relish after joining the Fiverr affiliate program:
Minimal Earnings: Worry about when you will get paid with a Fiverr affiliate program? Don't panic! You will get payment for every first buyer. Also, there is no referral limit, and you can acquire lifetime attribution with it.
State-of-the-art Support: After joining the Fiverr affiliate program, you will get access to top-notch sport and tutorials. Plus, you will get a dedicated affiliate manager.
Instinctive Dashboards: You will find nothing difficult with the easy-to-use dashboard. You can quickly launch, monitor, and manage campaigns.
Ingenious Resources: You must focus on making a high-performance portfolio. It will help in a promotion more effectively.

Final Words
Fiverr is not just a freelancing or services platform for buyers and sellers.  Fiverr now is a large and top-rated company. It is offering numerous services such as online courses, Fiverr pro, Fiverr promotion, Fiverr ads, Fiverr promo code system, Fiverr affiliate, and much more.
Therefore, if you join Fiverr, there are no limitations for your earnings. We hope our information would be helpful for you to learn all about the Fiverr freelance marketplace.
Enjoy!