A domain name is a Web address (URL) that points to a website or email. A domain name is like any street address where your website is the physical location. For example, Google's domain name is www.google.com. By typing a domain name into your browser, you can be sent to the registered site. When you decide on a domain name, it's essential to make sure that it's memorable, easy-to-type, and available for use.
It's best to choose a short keyword-rich domain name that can be easily remembered by your potential customers and also helps search engines find your website.
How to Choose a Domain? what is a domain?
If you have a website, you probably have a domain name. But do you have a search-friendly domain name? Look at words and phrases relevant to your business and choose the best one. Don't settle for something that's already taken. The .com is key, if available. Choose a domain that is short, easy to remember, and makes some kind of sense. It should also make people want to click. Consider .com, .net and .org extensions if you're not sure what to pick.
Does Domain Name Affect Google Ranking?
It's believed that domain names can affect Google ranking, but many factors determine the ranking, and the most important is content and backlinks. But if you want to make your site more professional, you should choose a good domain that is easily readable, short, and memorable.
Domain names are not directly considered in search engine ranking algorithms, but it has been proven that they can influence search engine rankings and even website traffic. The most crucial factor is to choose a keyword-rich domain name. A keyword-rich domain name contains a keyword that relates to the main topic of your website. If you're running a website about golf, then you should choose a domain name like www.golfingtips.com instead of yourcompanyname.com.
Characteristics of Good Domain Name
The domain name should match what you're offering. If you're selling furniture, don't use a domain name like "furniture site" or "furniture info." A person who lands on this site will think it is a placeholder or some kind of hoax.
The domain name needs to be memorable and easy to spell and say. If people can't remember where they heard of your site, it's unlikely that they'll return to revisit it.
Expired Domain Name
When looking for a domain name, you will likely come across expired domains that the owners have not renewed.
A domain name can become expired for many reasons. The owner may have forgotten to renew it or take it from them through a dispute process.
Although expired domain names are not as valuable as live ones, they are still helpful. The following points look at the pros and cons of expired domain names:
Expired domain names are old expired domain names that were once live websites, but they have since become inactive. It means that you can purchase them for relatively low prices and still get a ton of use out of them.
Existing backlink profiles
One link from a dependable website is worth 10,000 backlinks from websites often considered spam. While expired domain names can have a lot of backlinks, the quality of these links is questionable. Unless you verify where the links are coming from, you never really know how strong a domain's backlinks genuinely are.
Expired domains can be expensive.
Expired domain names can be expensive and can also be a bargain. You can often get an expired domain for free or just a few dollars. But in some cases, an expired domain can cost $ 10,000's or even $ 100,000's.
Limited Choice
You can have just about any name you want in a new-domain-name shopping spree in a new-domain-name shopping spree. With an expired domain, you're limited to what is already registered.
My Opinion
Although you may get lucky, we always advise buying a new domain over an expired one since the latter is more likely to be associated with spam. Starting with a clean slate is good because you can control all aspects of the SEO and, in turn, the backlinks. However, this approach is much more tedious and requires more effort to get off the ground and run. Yet, it will be worth it in the long run.
How can find a good domain server company
Finding a good, reliable company to register your domain name can be challenging. Here's some advice on how to find one.
Finding a good, reliable company to register your domain name can be tricky. But it's essential to choose the right company for your business. A domain is an integral part of your online presence, and choosing the wrong company could lead to problems down the road. These are some tips to assist you to find a great domain company.
Cheap: Domain registration doesn't have to be expensive — you can find a good registrar for $10 or less a year. But some companies offer "discounts" that aren't discounted at all — they tack on extra fees to what they're charging you already! Double-check any ads or offers carefully to make sure you're getting the best deal possible.
Available by Phone: You might want to start with a web-based domain registration service like Network Solutions (www.networksolutions.com), but if you ever need customer support, it's nice to be able to call them and get help from someone who speaks English.
A good company is Responsive: A good domain name registration company will respond quickly and professionally to any queries you might have. They should also be able to resolve issues for you quickly, without having to go back and forth with them too many times.
Offers Email Forwarding: This is important because an email address is vital for communication between you and your customers. If you don't have an email address available with your domain name, you could lose business, especially if someone wants to contact you about an urgent question or problem.
Best Domain Name Provider
GoDaddy
GoDaddy is one of the world's largest domain registrars, operating in over 175 countries around the globe. They are currently home to more than 60 million domain names. They are also one of the top 25 most-visited websites globally and have won awards for their outstanding customer service. When you buy a domain name through GoDaddy, you get everything included for one low price.
GoDaddy First Time
| | | |
| --- | --- | --- |
| .com | .org | .net |
| 11.99 | 9.99 | 14.99 |
Domain Renewal
| | | |
| --- | --- | --- |
| .com | .org | .net |
| 17.99 | 20.99 | 19.99 |
2. Namecheap Domain Registrar
Namecheap is a well-known domain registrar based in Phoenix, Arizona, US. They make their name by providing straightforward service at low costs, but they also offer an abundance of additional services aimed at helping customers get the most out of their domain names. This extra service ranges from simple tools that help you build a website to powerful security packages that will protect your business and its digital assets.
14m+ Domains under management
4.7 out of 5 Overall satisfaction of the customers
| | | |
| --- | --- | --- |
| .com | .org | .net |
| $5.98/8.98Yr | $8.68/yr | $10.98/yr |
Namecheap Renewal
| | | |
| --- | --- | --- |
| .com | .org | .net |
| $13.98/yr | $12.98/yr | $12.98/yr |
3. Hostgator Domain Registrar
If you've got a registered domain name and want to get more out of your hosting experience, then you should consider using a domain registrar that's proficient in both. One of the best options for registrars that also offer reliable hosting is HostGator. They have an impressive set of features for your domain name, and it's all available from the same company that you can trust with your hosting.
When you use HostGator, you can choose from a wide variety of top-level domains (TLDs). These include the most popular ones like .com and .net, and many others like .biz and .info. You can make sure that your domain is at the level of professionalism you need by selecting the one that fits your business.
Features: Domain locking, Auto-renewal, Easy management, Privacy protection, DNS management, Email forwarding.
| | | | |
| --- | --- | --- | --- |
| .com | .net | .org | .site |
| $12.95/yr | $12.95/yr | $12.95/yr | $0.95/yr |
Renewal
| | | | |
| --- | --- | --- | --- |
| .com | .net | .org | .site |
| $18.99/yr | $17.99/yr | $17.99/yr | $15.00/yr |
Domain.com
Domain.com offers an easy-to-use interface for prospective customers to find the perfect name for their business. Domain names are available in a wide range of extensions, such as .com, .net, .org, .info and .biz. Domain.com offers competitive prices starting at $10.49 for each domain name registration and $8.99 for each year of web hosting.
| | | |
| --- | --- | --- |
| .com | .org | .net |
| $8.99 | $8.99 | $12.99 |
Top 10 Best Web Hosting 2022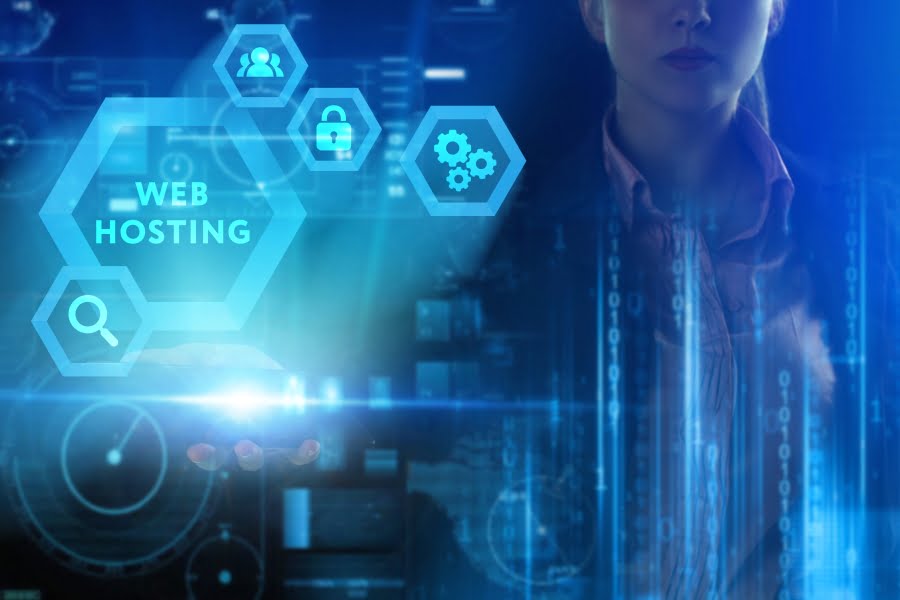 Run a blog and an e-commerce store, Hostinger can host your website in just a few minutes. The company offers various single-domain plans for different purposes, such as email hosting, free hosting with a free SSL certificate, and more. Hostinger provides a genuinely unlimited bandwidth, which is rare among free providers.
The company's servers are optimized with the LiteSpeed Cache module for better performance and SEO optimization. Domain privacy protection and malware scanning are also included in Hostinger's plans. Hostinger's managed WordPress plans also come with a free Let's Encrypt SSL certificate to make your site secure.
Hostinger's chat support staff can assist you with any issues you encounter or answer any questions you may have about the platform. In addition, there is a knowledge base that includes articles on hosting, WordPress, and SEO that can help you learn about these topics and make better use of them.
Features: A Truly Unlimited Bandwidth.
Advantages: Optimized servers to deliver faster loading times and a better SEO score.
Benefits: Hostinger doesn't limit your website's visitors and won't throttle any of its features.
2. Bluehost
Bluehost boasts one of the best uptime statistics in the industry. They have a 99.9% uptime guarantee, which state-of-the-art data centers and 24/7 monitoring back. Bluehost offers unlimited space and bandwidth so that you can load as many images, videos, and pages as your website need to be successful. They also provide several website security and speed features, including SSD drives for blazing-fast page loads, instant activation for quick setup, one-click WordPress installation, SSL encryption, free malware scanning, and removal, plus WordPress caching. Bluehost is a leading provider of quality web hosting services in the world. Bluehost provides superior technology and service. It offers one-click installs of WordPress, Joomla, and other popular content management systems (CMS), free domain name, free website builder, and 24/7 live tech support.
Features: Unlimited disk space and traffic
Advantages: Free CDN, free site builder, and free domain registration
Benefits: Fast performance for web hosting, sites, and blogs at an unbeatable price
3. A2 Hosting
A2 Hosting offers reliable hosting service and the most comprehensive feature set in the industry, including free domain name and email address setup, free 24/7 tech support, and the most comprehensive control panel in the business. With plans starting at just $1.99 per month, A2 Hosting offers the best value in the industry.
Features: Clustered servers that load your pages faster, cloud hosting, free website builder.
Advantages: Affordable price with the best customer service.
Benefits: We provide all the technologies that truly matter to you.
4. Hostgator Hosting
Hostgator is the best cheap hosting out there, and they have affordable plans and a good reputation. It has been around since 2002 and its servers are still going strong. They host more than 3 million domains. Hostgator offers shared web hosting, perfect for personal websites and small businesses. You get a free domain with Hostgator, and their hosting plans are very affordable. They also offer VPS servers, dedicated servers, and WordPress Hosting solutions. Hostgator offers 24/7 support via phone or chat. They also have a knowledge base with step-by-step guides to help you with your questions.
Features: 99.9% uptime, Easy WordPress Installers
Advantages: Starting at Just $2.75 /mo
Benefits: Free SSL Certificates, 24/7 Support, and A Ton of Hosting Options
5. InMotion Hosting
InMotion Hosting is a well-established web hosting company that provides affordable and reliable hosting services. It offers several plans, including Shared Hosting, VPS Hosting, Reseller Hosting, and WordPress Hosting. Balancing costs with performance can be difficult, but InMotion Hosting has done it. It provides high-quality web hosting without sacrificing the performance of the site. Although their plans may not be cheap, the service is so good that you feel like you got an incredible deal for your money. The most significant benefit offered by InMotion Hosting is its money-back guarantee. It allows users to test the service for 30 days with no risk involved. You can try out the service with no trouble if you are not satisfied with its performance or features.
Features: 24/7/365 Technical Support, 99.99% Uptime Guarantee
Advantages: Fast and reliable hosting with high-security standards
Benefits: More time to focus on your daily tasks and the growth of your business.
6. Siteground
Siteground operate on Google Cloud to create a powerful and technically superior hosting service. It provides a wide selection of hosting options that are suitable for any website. Their hosting plans start from as little as $3.95 a month and include unlimited bandwidth, PHP 7, MySQL 5, cPanel/WHM control panel, Softaculous One-Click Installer, SSH Access, and much more.
It uses SSD persistent storage instead of traditional hard drives, which means that your website will load faster and run smoother than on a standard hard drive server. The servers are powered by Google Cloud Platform, one of the most powerful cloud computing services available today. A Siteground uses Google Cloud Platform's state-of-the-art technology to ensure maximum uptime for their customers and speed.
Features: SSD storage, Google Cloud Platform.
Advantages: Speed and uptime, Free migrations and upgrades, Predictive
website speed tools.
Benefits: No more slow websites.
7. Namecheap
Namecheap is easy to use, reliable, and offers all the tools you need to create your website or blog? Then Namecheap's web hosting plans offer everything you need for a successful online presence with your domain name. All Namecheap hosting plans include unlimited disk space, unlimited bandwidth, and a free domain name for one year. Whether you're looking for shared hosting, dedicated hosting, or cloud hosting, you can be sure that Namecheap has an option tailored to your needs.
Features: Extremely fast Shared Web Hosting Platform.
Advantages: Secure, scalable, lightning-fast hosting platform.
Benefits: Enjoy a pleasant web hosting experience with Namecheap.
8. Hostwinds
Hostwinds offer all-powerful dedicated servers hosting anything from company websites to gaming servers. You can select from various options with multiple base models that start with a quad-core single processor and at least 8GB RAM, making them ideal for most typical users. Several operating system options are available, including CentOS, Debian, Ubuntu, Fedora, and windows. A server is also an option. Depending on the bandwidth package you choose, a 1Gbps network link should be enough to ensure that you never face throttling at your end. Complete server management is available, simplifying the upkeep of your site and ensuring that all of your files are backed up nightly. One drawback is that Hostwinds doesn't offer a management console with the basic package, simplifying server tasks for novices. However, they'll be happy to arrange an add-on if you don't want to set up one yourself.
Features: Centos, Debian, Ubuntu, Fedora, and Windows Server operating system
Advantages: High availability and centralized control
Benefits: You can host everything on this dedicated server to get a website running.
9. GreenGeeks Webhosting
GreenGeeks is a popular hosting service among many customers, from bloggers to business owners. Here are the top listed reasons why GreenGeeks is the best green hosting service out there:
GreenGeeks offers hosted website services with the ability to meet all of your needs, from shared hosting to reseller hosting to VPS hosting. With Green Geeks' multiple levels of web hosting, you can choose exactly what you need, from disk space and bandwidth to different types of domains and email accounts.
However, GreenGeeks offers unlimited websites, emails, databases, webspace and bandwidth, premium services like a free domain name, and SSL certificate with the GreenGeeks Shared hosting plan.
GreenGeeks provides all of their customers with free SSD (solid-state drive) backed hosting for lightning-fast loading speeds on their servers.
Features: Unlimited websites, emails, databases, webspace and bandwidth, and premium services like a free domain name and SSL certificate with the Green Geeks Shared hosting plan.
Advantages: All of their customers are provided with free SSD (solid-state drive) backed hosting for lightning-fast loading speeds on their servers.
Benefits: You can choose exactly what you need, from disk space and bandwidth to different types of domains and email accounts.
10. WP Engine The Best WordPress hosting
WordPress Hosting by WP Engine offers a new kind of performance. Built for WordPress, their custom platform is specifically tuned to the unique needs of WordPress sites. Their patented Jetpack technology provides unparalleled performance and security for WordPress sites.
Truly limitless. Customers get unlimited resources—disk storage, monthly data transfers, and even premium support at no additional charge.
Their managed hosting saves you time with built-in caching, optimized CDN from MaxCDN, and easy SSL.
In addition to powerful features like these, WP Engine also boasts an impressive uptime record: their systems are designed to maintain an average uptime of 99.99%.
Features: Performance and security.
Advantages: Unlimited resources, optimized CDN from MaxCDN, SSL support.
Benefits: Time saved from not having to manage the infrastructure in-house.