WordPress is the most popular CMS on the Internet today, and it is not just used for blogs. Content-heavy websites, such as newspapers and magazines rely on the CMS to deliver their content. With time, WordPress security has become a concern for these types of websites. Therefore it's essential to understand what security measures are available to keep your WordPress site secure.
This article will introduce you to Sucuri's & its Website Firewall (WAF). That can be used by business entities that care about maintaining a secure website environment. We will talk about what it has to offer, the benefits and drawbacks, pricing, and much more to assist you in deciding whether or not to use the platform.
What is the need for Website Security?
Website security is essential, no matter how big or small your website might be. Hackers can attack any website.
Every day, even the most popular websites in the world are attacked. Hackers try to attack sites for many reasons, but mostly because they want to steal something that can make them money (credit card numbers, bank account information).
There are three major types of web attacks: Cross-site scripting (XSS), SQL injection, and system hacking (permissions). Fortunately, there are steps you can take to protect yourself and your customers against hackers.
When it comes to WordPress, various plugins can assist you in improving your site's security.  However, some of the plugins aren't trustworthy.  You'll need a platform that can protect your site from these types of attacks. 
Sucuri is one of the platforms that have made a reputation for itself. Sucuri provides various security services to assist you in securing your website from assaults and removing dangerous code if it becomes infected with hackers.
Let's take a closer look at it!
Sucuri: What is it?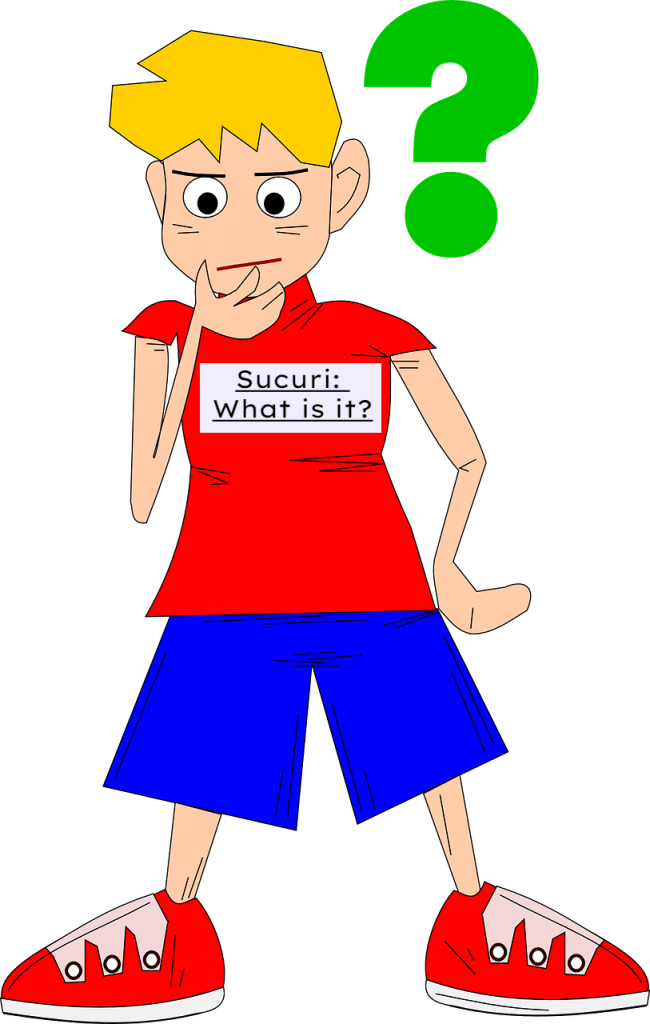 Sucuri is a leading web application firewall (WAF). They are known for providing an easy-to-use platform with features. Including automatic malware scanning, firewall protection, backups, CDN delivery of content, caching, email spam protection, and much more.
Since their acquisition by GoDaddy in 2014, they have expanded their services to include Website Security Monitoring, Website Firewall, Client Security Assessment Report (CSAR), and ongoing malware monitoring.
Sucuri is not the only security provider for WordPress sites on the market today. High-profile competitors like Cloudflare also provide cloud-based DDoS mitigation services similar to Sucuri's new Website Firewall feature.
Other companies work with managed hosting providers worldwide to offer managed WAF instances as part of their service offering. But no company provides all three threat detection products in one place at an affordable price point.
How does Sucuri work and secure your website?
Website Firewalls
Website Firewalls act as the first line of defense for web applications against all types of attacks (e.g., spam injections, DDoS). As a managed security service provider (MSSP), Sucuri's WAF is designed to keep your website secure while delivering business continuity and performance optimization capabilities that will not affect your user base.
The WAF acts like an airbag on your website; it responds to incidents in real-time without affecting normal online operations (visitors do not experience disruptions on your website).
It blocks incoming threats before allowing access to the systems behind the firewall. Beyond security services, Sucuri also offers malware detection & removal, 24×7 monitoring, and site recovery.
Protecting your WordPress Database
Malicious users attempt to guess or "crack" passwords used in systems such as WordPress via brute force assaults. In the case of attacks on your WordPress installation, the WAF identifies the attack pattern or signature, blocks the request, and protects your WordPress database.
Blocking Specific IP Addresses
The WAF also allows you to block specific IP addresses to increase security further. If an attacker tries to break into your website via brute force. For example, the WAF system will log their actions, and all account creation attempts from that source – instantly stop!
The next time that same user logs in from this address, they will not be able to carry out the login process due to blockage of their original attempt(s) at logging in. This is especially useful for administrators who may want a different password than other users on their site (e.g., strong administrative passwords).
WAF Protections Include: There are many types of attacks, and the WAF protects you against all of them. Among some of the more common types are brute force (e.g., guessing passwords), SQL injection (SQLi), and cross-site scripting (XSS).
Protection Sites from the SQL injection attacks
A malicious code injection uses a website's SQL vulnerabilities to gather information from an underlying database.
The goal of this kind of attack is usually to hijack the site or its data for other purposes e.g., defacing the website, stealing personal information, etc.
Sucuri helps sites protect WordPress sites against this attack by using prepared statements, and MySQL parameterized queries.
If this option is activated, any new comments containing URLs found on the blacklist are deleted. Otherwise, there may be room for unwanted characters to slip inside your application, allowing attackers to break into the back end.
Advantages & Features of Sucuri
Malware Scans
Site owners can set scans to run themselves or have them done on a daily/weekly basis by an administrator. This is useful if you suspect your website is infected or wish to take action before any harm is done.
Backups
Sucuri backs up your entire WordPress database. It also allows for restoration in the event of a hack, much like WordFence does. However, they also offer an additional service in which they give you the option to reinstall the latest backup onto a new server with one click. This can be highly beneficial in restoring hacked sites within their guarantee period (30 days).
Security Features
Sucuri offers various features for free. Including forcing HTTPS on all pages, compressing images, limiting plugins via allowlist/blocklist formats, stripping comments from posts & pages, disabling hotlinking of images, disabling search engine indexing, and more.
SEO Spam Cleaner
This service cleans up spam & duplicate content on your website that hackers have injected. It's important to note that automatic malware scans will catch this kind of spam. But usually not earlier than after it has started appearing in search results/on your site. This service can save you time (& headaches) with SEO.
Comment Blacklisting
If you are tired of comments with links/URLs pointing back to suspicious sources (such as pharmaceutical websites), Sucuri offers the ability to block them via their comment firewall feature. Any new comments containing URLs discovered on the blacklist are erased if this option is enabled.
Automatic Plugin Security
Sucuri automatically looks at all your installed plugins & reports which ones have known vulnerabilities. They also offer a weekly plugin security newsletter via their blog if you would like to receive updates.
Website Firewall
This feature prevents attackers from exploiting websites with SQL injection, cross-site scripting (XSS), local file inclusion (LFI), remote file inclusion (RFI), and more. It makes for an effective front line of defense against hackers trying to get in through the backdoor.
Monitoring Servers for New Hacks
The Sucuri website states that they "monitor hacked sites 24/7". They monitor incoming traffic looking for anomalies, not just for new infections. This is useful for staying on top of changes made to your website by hackers that virus scans or backups have not yet spotted.
Redirection Scanner
One common problem with creating web pages is unintentionally pointing visitors somewhere other than where you intended. Sucuri has a service that will scan your site for any redirection problems, not affecting your business' reputation.
Some Drawbacks:
When it comes to Sucuri, the pricing is bit high. Basic plans cost $199.99 per year, while advanced plans cost $299.99 and $399.99 per year.
Users who want to use the same service for multiple websites will need to pay for an additional license.
Sucuri doesn't offer free trials, so unless you were already planning on spending money with them, it might not be easy to try before you buy.
The support forums range from well-organized to chaotic and many people report slow response times when getting assistance.
Our Recommendation & Final Words
WordPress security is a significant concern amongst webmasters and website owners, and it's an issue that can cost you your website traffic or your online business.
If not done correctly, it can lead to various types of malicious activity such as defacement, malware injections, and data theft – to name a few. And no matter which method you choose – basic security measures or advanced options; either one has its pros and cons.
If your ultimate goal is to secure the safety of your website at all costs, then we strongly suggest you go with a reputable WordPress security provider – Sucuri. Sucuri has established itself as one of the leading experts on this topic. They're well-liked by webmasters because of their commitment to giving exceptional service to their clients.
We hope this article has been helpful for you!