Does everyone ask how to learn SEO? You will get the most out of this guide if you desire to learn search engine optimization.
This guide is designed to answer the question of how to learn SEO? You will get different sources and educational opportunities. These sources will help you to learn all major aspects of SEO that can generate traffic to your website, build links, make your site friendly to search engines, and market the unique value of the site.
The world of search engine optimization is complex and constantly changing, but it is easy to understand that the basics and knowledge of SEO can make a big difference.
Combine the information from the resources (like SEO books, conferences, and online courses) given in this guide with some practice. You can become an SEO expert.
How to learn SEO?
Are you excited to learn how to learn SEO? It is a fact that learning SEO is self-education.  Others may facilitate learning, but no one can teach you anything.
They can only motivate you to learn on your own. So, if you want to learn search engine optimization, you need to do it yourself.
In the past, there was no digital marketing course. But today, you can learn SEO through various online courses available.
Even if you are in school, you cannot rely on lessons to teach you everything you need to know. Classes can be a good introduction to digital marketing, but if you want to develop enough skills to complete the actual SEO work, be prepared to participate in extracurricular activities.
You also need to avail educational opportunities that suit your career. You can find SEO packages on online courses and make a list of "My Courses."
So let's discuss various ways to learn SEO in this digital age but remember, practice is important to excel in this field.
Learn About SEO, and get the eBook!https://t.co/5MFK24p8H6 pic.twitter.com/Hl2PCaVwJx

— Nicoletta Catalucci (@webysebooks) November 1, 2022
SEO for Beginners
As a starting point for learning SEO, we have found no other resource better than IMG's SEO Beginner's Guide. Does it give the most basic questions, such as What is SEO? How to learn SEO?
We also recommend a book for SEO beginners. It is "When Search Meets Web Usability" by Shari Thurow and Nick Musica. This book was published in 2009. This book does an excellent job of explaining the basics of search.
It is technical and convenient for SEO professionals, but the concepts and descriptions are easy to understand, and even beginners can reach them.
Moving Toward Expert Level SEO
By spending a few hours a month, you can gain the knowledge to become a true SEO expert, know what SEO recruiters should do, and prepare yourself before hiring so that you can judge the situation more accurately.
There's no substitute for digging deep and gaining hands-on experience through trial and error, but here are some of the most helpful resources and educational opportunities to help you get professional SEO knowledge. We recommend making a My Courses list to know exactly what you want to learn.
Let's discuss these.
Online Resources for SEO
One of the easiest and most effective ways to learn SEO from scratch is to take an SEO course. IMG offers SEO packages on their course, which offer discounts.
There are many SEO concepts to learn, and there are many things to master. Putting all the information you need to know in one place can save you a lot of time and effort.
Good SEO online courses will teach you the basics and more advanced concepts of SEO. Through relevant hands-on examples and easy-to-understand explanations, the learning process can be made easier and faster.
We have done the research and found that SEO courses by IMG are the best. Industry-leading experts teach their courses.
Online courses by IMG
The IMG SEO course is a comprehensive online course covering all aspects of search engine optimization. Renowned SEO professionals teach the course with many years of industry experience.
This course is the best, and we always refer to it in our SEO guides. IMG is a very important company in the SEO industry. They have been for years, and their contributions to the SEO community are highly regarded. IMG offers SEO packages on their course, which offer discounts. You can search on their website.
The SEO certification course includes instructor guidance and exams. If you pass the exam, you can get SEO certification.
Types of SEO training by IMG
Not only is it difficult to choose the right SEO course, but you also have to choose which part of SEO you want to learn more about.
How about SEO on the page?
Local search engine optimization?
Link-building?
Or how about keyword research?
At IMG, new online courses are added regularly, and you can get a variety of courses. Check their website and make the My Courses list to know which courses you want to enroll.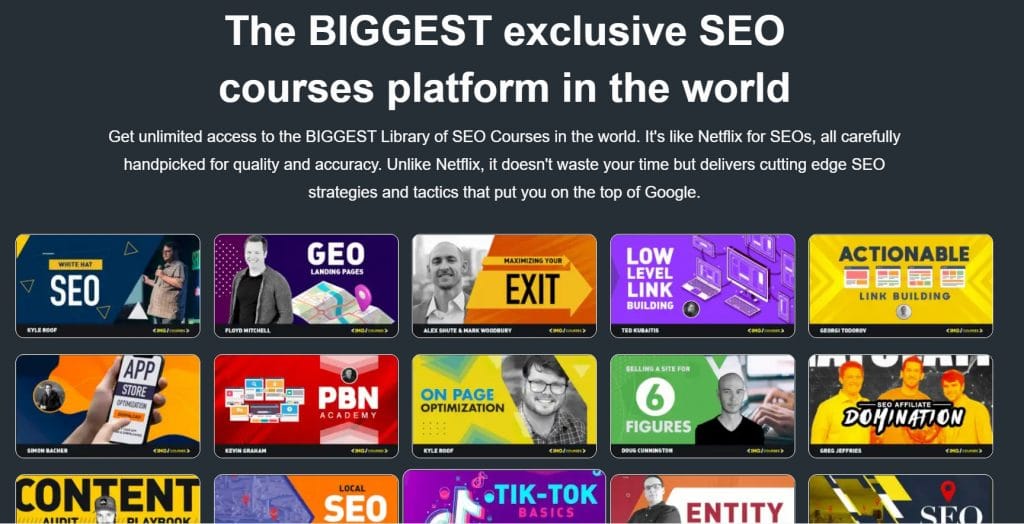 On-Page SEO training
If you don't know where to start, we recommend starting with On-Page SEO training by Kyle's. We can 100% recommend it because it provides a lot of useful information.
Multiple link building course
IMG online courses offer a wide variety of training types, including low-level link-building courses sponsored by Ted Kubaitis.
In this course, Professor Ted will teach how to find low-hanging fruit. How to establish backlinks on many websites without outreach. It will help you find and get them, so highly recommended course.
For more advanced SEO, there is another link-building course taught by George Todorov. He teaches about 7 White Hat link-building techniques to improve your ranking and revenue.
Its modules include hiring writers, guest posts outreach rules, broken links, establishing HARO links, obtaining links, and more.
There are several SEO packages on the IMG website. Get the right one.
Other courses
There are a few other online courses on the IMG platform which are well-known and best to lead you in the journey of SEO. These courses include:
Entity Stack Building (link building)
Local SEO for Businesses
PBN Academy
Content Audit Playbook
SEO for Real Estate
SEO Campaign processes
App Store Optimization
Content Writing, Copywriting & Keyword Research
IMG course offers some SEO packages and covers all aspects. So what are you waiting for? Enroll in one of these online courses to get the best results.
Books
With the rapid technological changes, SEO books become obsolete soon after they are published. For this reason, we think the most useful books on SEO are not exactly SEO books.
Here are some of our favorites:
Web Analytics 2.0: The Art of Online Accountability and Science of Customer Centricity by Avinash Kaushik
Epic Content Marketing: How to Tell a Different Story, Break through the Clutter, and Win More Customers by Marketing Less by Joe Pulizzi
Landing Page Optimization: The Definitive Guide to Testing and Tuning for Conversions by Tim Ash, Maura Ginty, and Rich Page
The New Rules of Marketing & PR: How to Use Social Media, Online Video, Mobile Applications, Blogs, News Releases, and Viral Marketing to Reach Buyers Directly by David Meerman Scott
The Art of SEO: Mastering Search Engine Optimization by Eric Enge, Stephan Spencer, and Jessie Stricchiola. It is the 3rd edition, and the authors are pillars in the SEO community.
There are SEO packages on these books which offer discounts. You can search online.
SEO Conferences
Like SEO books and online courses, a lot of the best SEO conferences are not only about SEO but for those who want to delve into the meaning of SEO. These conferences are great educational opportunities where you learn a lot.
The following conferences are some of the most famous conferences.
SMX
Mozcon
ClickZ Live
MarTech
Inbound
Internet Summit
Conversion Conference
Content Marketing World
If you want to know what you can learn from a conference, you can usually find the video clip on YouTube or the conference organizer's website.
In addition to these big events, you can also find the same quality events in the backyard. Search on google or on the local SEO experts page to find local conferences. `
Free vs. Paid Education
As an industry that is still in its infancy, most universities do not formally teach SEO. Fortunately, you don't need a bachelor's degree in SEO or a university education because you can learn everything you need online and through apps.
How to learn SEO? Free or paid online courses? Most SEO is self-taught and most often uses free online resources to learn.
There is an active online SEO community, which is very useful and gives a lot of educational opportunities to newcomers. The truth of these online courses is that you can find most of the information they provide online for free. So why would anyone pay for these?
The answer is that the course can save you time. The information is grouped so you can learn and stay focused in one place through a structured curriculum. It prevents you from jumping from one resource to another and going out of orbit.
Is learning SEO through the course necessary? No, absolutely not. Does the course save you time? Potential as long as you take the course from a reputable SEO.
The rule of thumb to follow is not just to sell courses on SEO methods but to buy courses only from SEO professionals who make money with true SEO.
We recommend taking online courses from IMG. These courses are the best in the industry and are taught by leading SEO professionals. They offer various courses for all levels. So next time, when considering taking a course, check courses on the IMG website and make a My Courses list to know exactly what you need.
Is it hard to learn SEO if you don't know anything?
A common question many people ask themselves is, "How hard is it to learn SEO if you start from scratch?"
It is a fair question, as not everyone knows what search engine optimization is and what it entails.
The answer is simple. It isn't easy because there is a lot of information about how search engines and optimization processes work, which can be overwhelming at first.
But if you do it step by step and follow a structured learning approach through online courses and other educational opportunities, it will all make sense, and the whole process will be easier.
Learning plans help you develop skills and knowledge over time, keeping you focused on the key aspects of SEO. Always make a plan and follow it because it will lead you on the road to SEO.
Do I need a computer science or marketing degree to learn SEO?
No, you don't need a formal education to learn SEO. There are a lot of online courses you can take to obtain SEO certification, like IMG.
When does SEO learning stop?
SEO learning never ends. Google makes hundreds of changes to its search algorithm every year, which means you need to enrich your knowledge and skills continuously.
How long it takes to learn SEO?
It totally depends on the effort and time you put into it. SEO is not just a theory but also a very practical topic.
SEO theory tells you what to do to make your website SEO-friendly, but how you apply SEO principles affects your ranking and traffic.
In our experience, if you follow a reliable study plan and make the necessary efforts, you will be able to learn the basics within six months.
During this time, you spend most of your time reading theory and practicing SEO as well.
We chose six months as the shortest period because SEO takes a long time, and you may have to wait a few months or more to see the impact of SEO-related changes on your website.
Give time to learn the theory, do practice, and you will see results.
Conclusion
You can learn how to do SEO yourself; you don't have to be an SEO expert or specialist. The first thing to do is to ensure that SEO is not difficult. If others can do it, so can you. All you need is the willingness and time to learn.
If you don't know anything, don't feel pressured. There are many things to learn, but you can achieve your goals in less than six months if you use the right methods. The most effective way to learn SEO by yourself is to take good SEO online courses and avail best educational opportunities.
A good course is practical, but you can save a lot of time and frustration with a small investment compared to trying to learn SEO yourself without guidance. The good news is that IMG offers various SEO packages.
So are you still suffering from learning how to learn SEO? Then enroll in a course by IMG. These online courses will help you to excel in the field of SEO.