Most of us want to kick start our Quora journeys. We are excited to share all our knowledge. However, as with every new platform it is important to learn the ropes first before diving in head first. There is a lot you should prepare and learn before you are ready to rock your Quora profile. Ready to start sharing your expertise on Quora? Here are a few Quora Tips you need to know.
How do I get started using Quora?
Getting started on Quora is easy. If you already have an account, you can skip to the next section. Otherwise:
1. Visit www.quora.com and sign up with your email address. Alternatively, you can sign up using your Facebook or Google account by clicking on the respective buttons on the signup page.
2. You can choose what you want to see from Quora by following topics that interest you. And you can see people whose answers you'd like to explore. On the sign-up page, they will suggest some topics for you based on your interests and accounts. You're connected to Facebook and Google. You can also take a tour of our most popular topics by clicking "Take a tour of popular topics" at the bottom of the suggestions list.
3. Confirm your email address to finish creating your account.
What are some tips for do's and don'ts on Quora?
Here are some Quora tips for dos and don'ts:
1. It is a community of people who want to help and share information.
2. Don't ask questions for the purpose of advertising.
3. Don't write answers that are nothing more than an advertisement.
4. Do write good answers and have them up-voted by the community.
5. Do share your knowledge with others.
6. One great way to promote yourself and your business is to post useful answers on Quora.
What can I use Quora for?
Quora can be used for a variety of purposes. You can use it to:
Learn about topics and subjects you care about
Ask questions to learn more about them
Answer questions to share what you know with others
Follow people in order to read the content they create and engage with them in conversation
Follow topics to read updates from experts in those topics
Explore recommendations tailored specifically for you
Quora Tips
If you're a member of Quora then you probably know that the site offers a lot more than just social networking. In fact, you might even be using it as part of your professional life. There are some tips for making the most out of Quora. And being successful there that I'd love to share with you.
Optimize your profile
The Quora profile page shows your name, location, and bio; answer views, follower count, and topics followed; and your highest quality answers to date.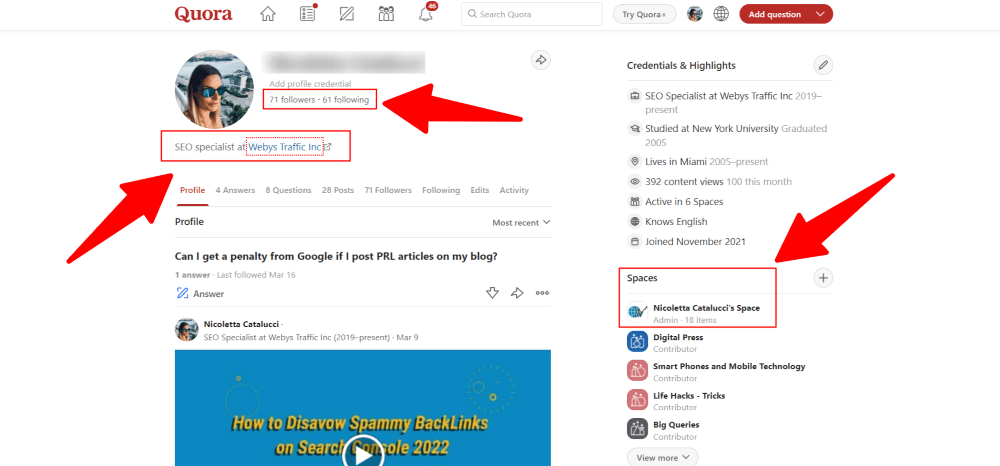 A complete profile builds credibility with other readers. It makes you seem like a legitimate expert who is invested in the Quora community. It also helps you get found. People can search for you by name or use the "Include these profiles" feature to discover new questions.
If you're a company looking to build thought leadership through Quora. Having a profile for an employee who's an expert in a specific subject area is a great way to make sure your brand is represented accurately.
Some tips on how to do this:
Make your cover photo interesting. Your cover photo is the first thing people see when they visit your page, so make it reflect what your blog is about. You can also add a small description of what people will find on your blog.
Connect with people in your field
Once you've created a profile, Quora will recommend other people to follow based on the information you filled in during the registration process. Follow them and start engaging with their content by liking and commenting on their posts. If other people are engaging with your posts too. they'll see a notification that will attract them to check out your blog too.
Post good content
When you post a question or answer, write like it will be seen by someone you respect. (This is to say, don't write like you're speaking in an online forum.) Good content is the best way to get followers on Quora.
Follow topics you are interested in
The more topics you follow, the more interesting content you will see and have a chance to contribute to. This can help you build up your reputation on Quora and see great questions and answers across the site.
Browse your feed regularly
Your home feed on Quora has everything that's new in topics you follow and Questions that are popular across Quora, as well as Questions that people in your network answered recently.
Keep an eye out for questions related to what you know about or questions that interest you. These are the best opportunities to use your knowledge to help others. And show off how much you know about a topic.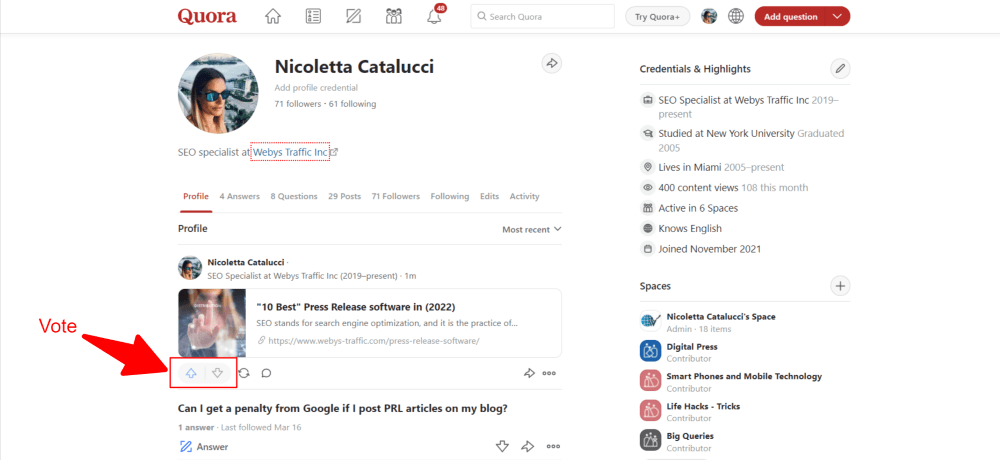 Vote on questions and answers by tapping the arrow next to them. This helps other users see the most useful content faster."
Give positive feedback when you see something you like or agree with.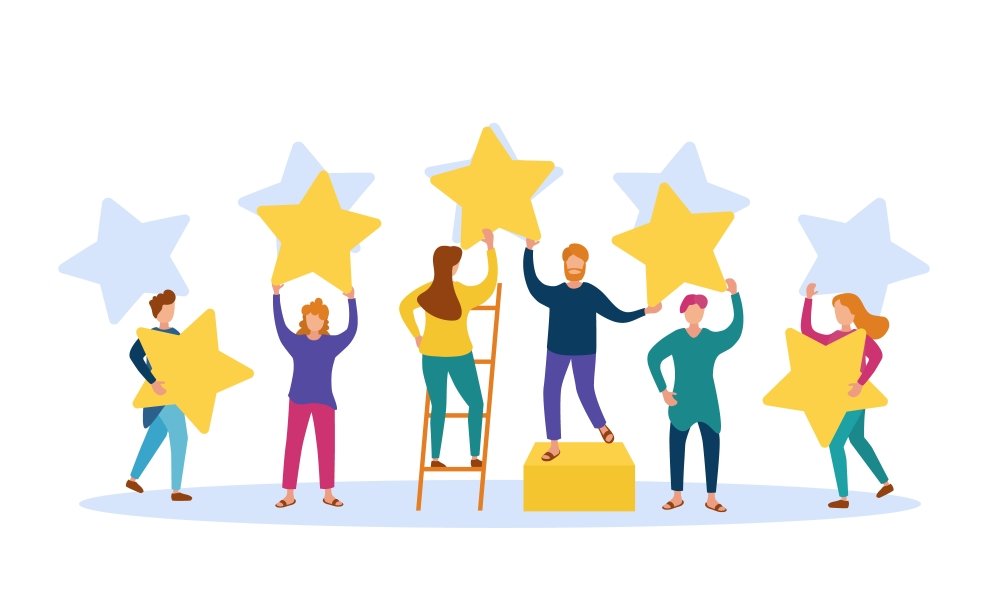 Quora offers the ability to "upvote" answers that you think are helpful or insightful. This is an easy way to show support for someone who has answered questions well. And they're much more likely to check out your content. If they notice that you're an active user who shares their views.
That way, authors know that their work is appreciated and it encourages them to keep writing. In addition, a positive vote will give an answer higher visibility in the system.
Search for an answer before you ask.
If you are about to ask a question, take a moment to search for it first. You will find that many questions that seem original have already been answered many times. You will also find that your new question is probably a duplicate of hundreds of other questions that were asked and answered before you.
Be specific.
Vague questions tend to attract vague answers, so try to be specific by including details. That makes your question more interesting. Also, avoid asking highly opinionated questions. Instead, ask a factual question and something else that gets people thinking about their opinions. Like what they would do in a similar situation or what they think about a certain recent event.
Conduct research.
If you're struggling for ideas for good questions, take a look around Quora to see what others are asking about. It can give you lots of ideas! And if there's an area on Quora where you're an expert, browse the recent topics there (these appear in the sidebar) to see if there's anything you can add to the conversation or answer yourself.
Include images or links.
You can attach images or links in your question by clicking on the camera icon next to where it says "Ask Question." There's no limit to how many images/links you can add — this is a great way to show off your knowledge and add value to your question.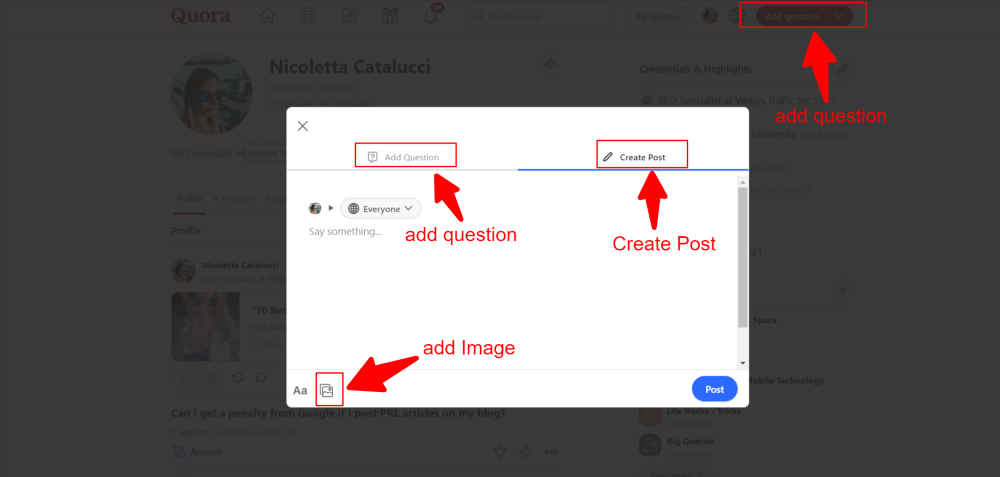 Handy Tips for Quora
Be Nice
Quora want to be a place where people treat each other with respect. This covers a lot of ground, from assuming good faith on the part of other users to not gratuitously attacking them. In particular, it means that you aren't allowed to be offensive or abusive to others. If someone is being offensive or abusive to you, please report it.
The primary goal of Quora is to share and grow the world's knowledge. They welcome questions on a wide range of topics and ask that you only submit content that contributes toward that goal. Please don't post spam as it will be removed by the moderators. Questions should be written in English or have English translations available to them, though they encourage users to answer questions in all languages.
Quora is designed so that the best answers bubble up over time, and at any given moment it may not be immediately apparent which answers are going to ultimately rise to the top. That's why Quora ask users not to downvote unless they think an answer shouldn't be on the site at all, rather than because they just don't like it or disagree with it. Quora also ask users not engage in vote manipulation (this includes voting from multiple accounts).
The Best Quora Alternatives
In today's world, there are many options when it comes to getting answers to your questions. Quora is just one of the many services that you can use to get those questions answered. But with so much competition out there, you may be wondering what the best Quora alternatives are.
StackOverflow: The most popular alternative to Quora is StackOverflow, a community of over 4 million developers and programmers.
Reddit: The next most popular alternative to Quora is Reddit, a social news website where users submit and comment on content.
Quora vs Reddit Users
Quora is a great place to learn new and interesting things, while Reddit is the place you go when you have some time to waste or need help killing time.
On Quora, you can ask questions and people will write answers to them. On Reddit, you can upvote/downvote content other people post.
Quora is more about learning new things, while Reddit is more about sharing funny things or wasting time on the internet.
Reddit has communities dedicated to certain topics and everything (literally everything) in between, while Quora is all about asking questions that range from silly to serious.
Quora's "Most Viewed Writers" page shows writers who are generally knowledgeable about the topics they write on and are there to share their knowledge. The top contributors on Reddit are almost exclusively meme pages with questionable motivations for contributing content to the platform.
Reddit users tend to be more open-minded and less judgemental than Quora users, who are typically more objective and straight forward with their answers (or feedback).
On Quora, you can get feedback on your answer from other Quora users, or people who have followed the question you answered. On Reddit, your post may be downvoted.
Bottom Line
These Quora tips should help you get the most out of your Quora experience. They're not foolproof, but they should give you a solid head start in getting your questions answered or finding great questions to answer yourself. And the next time you search for some information on Quora, remember these tips and take them into account to maximize your search results.