Ever visited a website only to get the 409 error page? It would have been a jarring experience. For businesses, it can be a huge disadvantage. That is because a broken link serves only to decrease the credibility of a website. Your customers can face a lot of inconveniences.
Not only that, but it can lead to a downfall in the business's online presence.
Broken links also have a huge negative impact on your ranking. Hence, giving a chance for competitors to go up in rankings. But, you do not have to get in this trouble anymore.

Here, we will tell you how to find backlink errors with Semrush, the best-broken link checker. So, let's start.
Finding Broken Backlinks with Semrush in 2022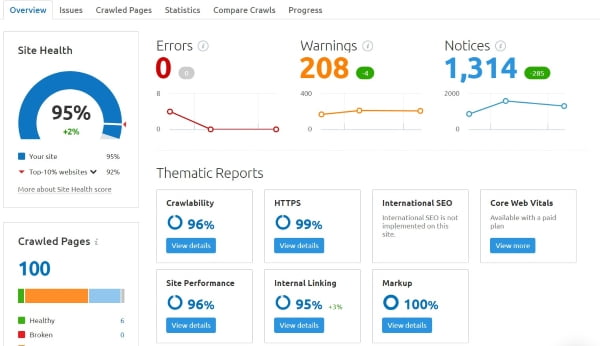 What are Broken Backlinks?
First things first, what is a broken backlink? When another website links to your website, along with errors. But, what can be the reasons causing this? Well, there are several.
There are some typing mistakes in the URL.
The URL is updated.
The page is renamed.
The content on the page has been removed by the server.
These are some of the most common issues leading to the HTTP 409 pages. However, users also face Bad Code, Bad Host, Time Out, 404 pages not found, and 400 Bad Request errors.
Finding Broken Backlinks

Broken backlinks can impact your site's SEO on many levels. If you want to maintain its traffic, it is best to ensure all backlinks are working fine. SEMrush's broken link checker has made it easier to find and fix them.

Now that you know the reasons and errors for broken links, let's look at how you can find them.  For this, you will need to use the Backlink Audit tool.

For a simple check, you can simply open the Backlink Audit tool website and insert your URL. It will do a quick audit of the backlink.
However, if you want a full analysis, you will have to connect the tool to your website. After that, follow these simple steps:
Steps
On your project's dashboard, click on Backlink Audit to start the tool.
A dialogue box will pop up. It will contain options for configuration before your audit. On the left, you will see four panels. Change the options accordingly, such as target country, domain categories, etc. And click on Start Backlink Audit.
Once it is complete, you will see a page. On top, there are different tabs. Open "Target Pages."
On the extreme right side of the search bar, click on "Target URL Error."
From the referring domains section, select "Active."
Now, you will see if the page for a targeted keyword(s) faces any errors. Plus, it also shows which error, such as 409 error.
The best part is that you can find even detailed reports on your website.
Semrush broken link checker collects accurate data.
It will give you a complete overview of the health of your backlink. Via the toxicity score, you can easily find out where the problem lies. It automatically checks every backlink that has a 45+ toxicity score.

Using this, you can find all kinds of errors, including HTTP 409, bad requests, etc. Now, how to fix the broken backlink? There are two methods.

If it is an internal backlink issue, you will have to set up a 301 that points to the new web page. But, if it is external, the right way is to reach out to the website's owner. You can request them to update the URL so that it directs towards the right page.
Semrush Academy – Courses and Benefits

If you are interested in learning about SEO, you should choose the right place. With the right knowledge, you can easily rank your website. And SEMrush Academy is up there in the top tier.
Yes, you heard it right. Semrush broken link checker is much more than you thought. Besides being one of the best SEO tools, it also offers a variety of courses. With that said, let's take a detailed look to provide a clearer picture.
Courses
What are the courses offered by SEMrush Academy? They offer the most useful ones, including Role of Content, Competitive Analysis and keyword research, On-page SEO, Rank Tracking, Audit of a website's visibility, and much more.

All of these courses consist of multiple video lessons. Some have 7, 8, or 10 videos, while others only have 2 or 3. It depends on the complexity of a course. The duration is up to 1 hour.

The courses are based on categories such as SEO, digital marketing, and sales. Also, they are available in several languages, including English, Español, and Français.
Benefits

Are you worried about the price? Well, all of these courses are free. There are no paid courses on the platform. If you compare the Semrush Academy to other educational platforms, most of them are paid and have high prices.
Plus, you also get a certificate upon the completion of the course. The certification can be used in your portfolio to gain clients. It definitely gives an upper hand.

Semrush Academy not only offers general courses but also has lessons to use Semrush tools. Since they offer a set variety of tools, it is best to learn about them. They can come in handy for improving your site's SEO.

Due to the available variety, you can easily find the right course for you in a suitable language. Once you have completed the course, you can take the exam to gain the certificate. This way, you can also test your skills practically.
Conclusion

In this article, you have learned how to find and fix a link a backlink by using the best-broken link checker. It will help you solve the 490 errors and others as well.

We have also mentioned Semrush Academy and how it can come in handy for your website. With the right skills and certifications, you can take your site's SEO to the next level.