Introduction
SEO Hacks are becoming more complex by the day. This is partly due to the sheer number of available techniques and tools and the constantly-shifting landscape of search engine algorithms. However, this doesn't mean you can't achieve great SEO results without advanced techniques. In fact, there are many simple and effective things that you can do to improve your rankings on Google.
These simple but often overlooked methods can help you get ahead of your competition. This article will discuss 9 SEO tips and tricks that no one talks about but should pay attention to in 2022.
Types of SEO Hacks
SEO Hacks helps you to optimize your content and website according to the standards and rules of search engine algorithms. Google's search algorithm uses hundreds of signals to determine where your web pages should appear in the search results. This makes SEO a complex and constantly evolving process.
There are two types of SEO:
On-page SEO focuses on optimizing individual web pages by optimizing content and HTML code for higher rankings on Google. This includes keyword research, meta tags, title tags, and internal links.
Off-page SEO is all about building backlinks from external websites to increase your website's authority. This includes link-building strategies such as guest blogging, broken link-building, and
These SEO hacks will help you improve your website's search engine visibility, increase organic traffic and ultimately generate more leads and sales for your business. By focusing on creating a well-structured website with optimized content, engaging social media accounts, and comprehensive links, you'll have the foundation to launch an effective SEO campaign.
9 SEO Hacks That You Should Use in 2022: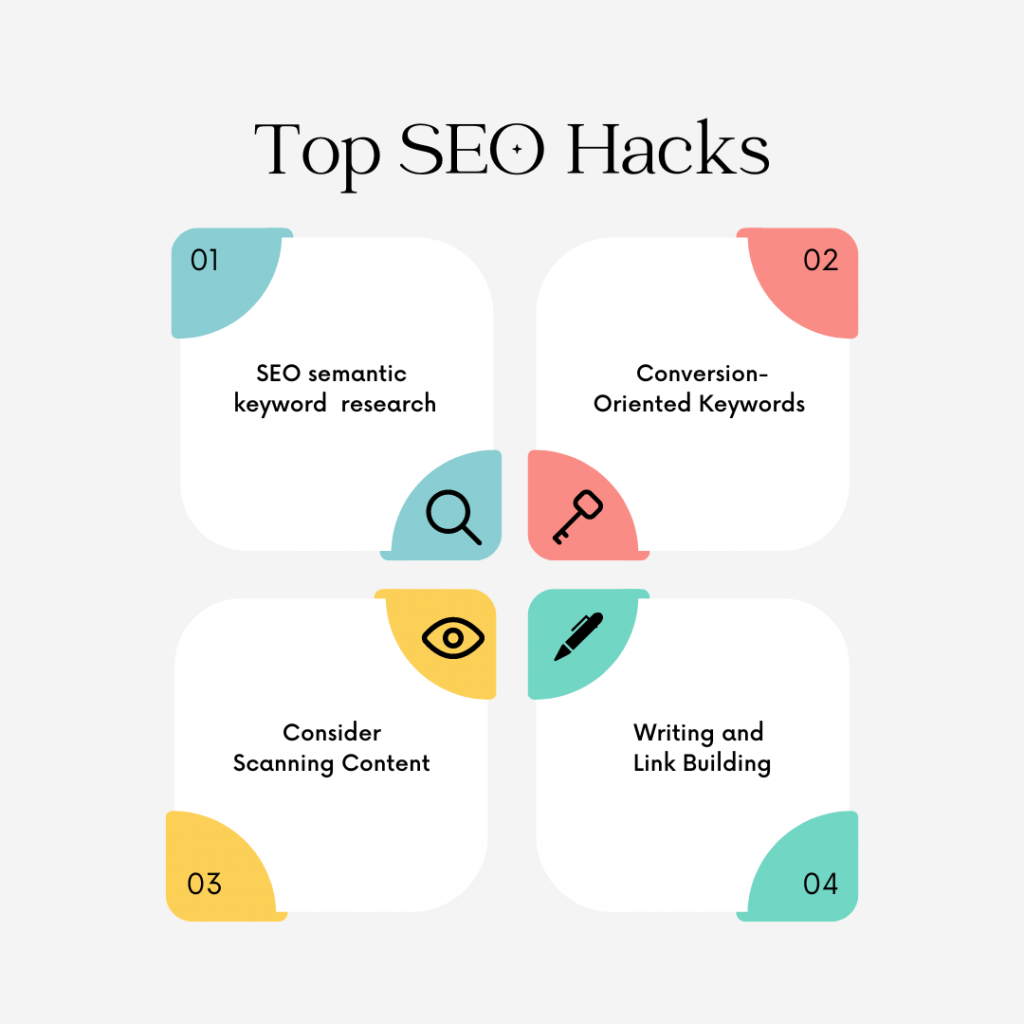 Optimize for voice search
Voice search is becoming increasingly popular and is projected to become even more popular in 2022. Optimizing your content for voice search means ensuring that it's formatted for natural language processing (NLP) so that it can be accurately interpreted by digital assistants like Siri, Alexa, and Google Assistant. To optimize for voice search, you should use natural language in your content, include long-tail keywords that mimic the way people would ask their devices a question, and focus on providing concise answers to queries.
Improve page loading speed
Page loading speed is an important factor in any SEO strategy since it can affect both user experience and search engine rankings. The page loading speed can be improved by reducing the amount of bulky content, using optimized images and videos, minifying HTML/CSS/JS codes, implementing caching mechanisms, reducing redirects, and leveraging a Content Delivery Network (CDN). Improving page loading speed will also help you rank better in mobile searches since Google considers page loading speed a ranking factor for mobile searches. Additionally, it would be best if you considered using accelerated mobile pages (AMP) to further improve the loading speed of your pages on mobile devices.
Optimize the internal linking structure
Having an organized internal linking structure helps optimize the user experience and search engine rankings. Internal links help search engines understand how different pages are related to each other. They also allow visitors to navigate through your website more easily. You can optimize the internal linking structure by adding links from the main pages of your website to sub-pages in a logical manner and make sure that all important pages are included in the internal linking structure.
Get Start Here!
Dwell Time'
Dwell time is the amount of time a user spends on your pages before they leave. This can be an important factor in determining how successful your website is in engaging users. Having longer dwell times also shows search engines that visitors find what they are looking for on your website, thus helping to improve rankings. To increase dwell time, you should focus on creating interesting and engaging content. This ensures that page load speeds are quick and creates a logical navigation structure, thus, allowing users to find what they are looking for easily.
Leveraging Social Media
Social media is an important factor in driving traffic and engagement to your website. Having active social media accounts, sharing relevant content, and using influencers are all great ways to grow your website's visibility. Additionally, it would help if you used social media snippets on your pages to encourage users to engage with your content and share it with their followers. The SEO Hacks services you use should help you determine the best way to leverage social media for your website.
Optimizing images
Optimizing images can have a huge impact on the speed of your website. This is especially true if you use large, unoptimized files, as they will dramatically slow down page loading speeds. Ensure that all images are optimized for the web and compressed in size to make sure pages load quickly. Additionally, always include relevant alt tags for those images to help search engines crawl and index your website.
Backlinks from high DA websites (even nofollow links):
Yes, most of the emphasis is placed on acquiring backlinks from high-ranking websites in terms of Domain Authority. However, it's also important to focus on getting backlinks from reputable sources regardless of their domain authority. This means that even nofollow links can still be beneficial when they are acquired from authoritative sources. Make sure all your backlinks are relevant to the topic you're trying to promote, and use appropriate anchor text that includes your target keywords. This will help you gain better visibility in search engine rankings, even if it's just a nofollow link.
Get Start Now!
Repurpose blog posts as videos or infographics:
Blog posts are a great way to drive traffic and create content, but they can be hard to stand out in search engine rankings. To boost visibility, repurpose your blog posts into videos or infographics. Videos are great for engaging more people and reaching new audiences who may not have discovered you through search engines. Infographics allow you to present complex data in a more readable and visually pleasing way. Both of these can also be shared on social media, helping to expand your reach even further.
Use long-tailed keywords:
Long-tailed keywords are phrases that target a more specific audience. Long-tailed keywords can bring in valuable traffic from people looking for something very specific. For example, rather than using "shoes" as your keyword, you could use "men's leather dress shoes size 9". This will help you draw in a more targeted audience that is more likely to convert.
Conclusion
SEO Hacks are an essential part of a successful digital marketing strategy. It helps you to reach your target audience and increase your brand visibility. With the right SEO tactics in place, you can drive more traffic to your website. This leads to increased conversions and ultimately improves your ROI.So if you want to make sure that your business is getting the most out of its digital marketing strategy, then an SEO company in Kolkata can create a well-crafted SEO plan that will boost your online presence and success.
Author Bio 
Khurshid Alam is the founder and director of Pixel Street. A top SEO company in Kolkata. He has over 8 years of experience in the industry and has worked with some of the world's leading brands, including ITC, The Hindu Group, Glocal Healthcare, etc.
Author Name: Khurshid Alam
Get Our Suggestion Tools