Are you tired of waiting for months for returns to come through from your editor? Does the idea of investing in yet another software seem too expensive? Do you want to bring your films to the next level but don't know how? If you answered "yes" to the questions above, I have something unique for you. And that is Filmora. In this article, we will review Filmora video editor.
Filmora is a free video editing software marketed towards filmmakers and businesses looking to make videos. One can use it to make films, create videos, and add effects while making editing the sound, image, and clips easier. Everyone, from beginners to professionals, can use Filmora's video editor, even if they don't have any experience in video editing. This makes it ideal for people who want to learn the basics of video editing (or make their first edit).
Pros and Cons of Wondershare Filmora Video Editor
Pros
Email and phone support
Drag and drop; easy and simple for the beginners
Transitions and Text effects
Precision cutter
Copyright-free music
Import and export in all formats and file types
Cons
The free version is fully functional but with a prominent watermark
A little bit of slow AMD processors.
Easy to Use Beginner Friendly
The easy-to-use, beginner-friendly Filmora program includes all the tools you need to start editing videos. The video editor allows you to insert transitions between clips and to arrange clips however you like. It also has various effects, such as distortion and fade, and it supports many types of video, including AVI and FLV. A timeline feature allows you to add markers at specific points in the video so you can quickly jump back to them later. You'll also find great support for using Filmora on YouTube, including tutorials for creating widespread video effects like "Ken Burns" panning.
What is the cost of Filmora?
To give you a sense of the program before you invest, Filmora offers a free trial period. You can export files ten times during the free trial period, but you'll see Filmora's logo on your output. You'll receive new updates and features when the company adds to Filmora's software if you decide to subscribe. Or, you can get a permanent license, which doesn't require a subscription. The Mac and Windows versions cost $51.99 per year or $79.99 for a single purchase at a total price (these prices are frequently discounted). That's significantly less than you pay for industry-leading software like Adobe Premiere Elements, at $99.99, or CyberLink PowerDirector Ultimate, at $139.99 (with a $69.99 per year subscription option). If Filmora meets your needs, you'll be happy with what you get.
To unlock Filmora's video effects, apply video filters and other effects, get rid of watermarks and get 24/7 tech support, you can choose from either a membership plan or an annual license. New developments are added to Filmora every month for subscribers. I tested the Windows and Mac versions of Filmora, though functionally similar.
The interface of Wondershare Filmora
Filmora's main interface lets you view your source content, video preview, and timeline down the bottom of the screen. You can swap between black and light-gray window borders. If you have set your machine to dark mode, Filmora uses dark gray edges; if it's in light mode, the program will use light gray. The controls are simple and friendly. You can drag a splitter between panels to make them larger or smaller.
You can Track Video Marketing Metrics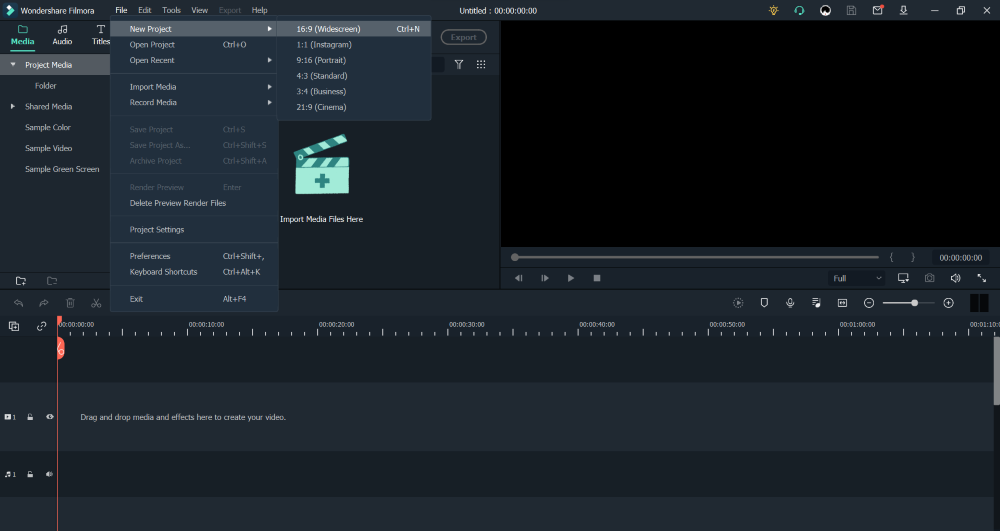 When you start a project, Filmora's wide range of aspect ratios lets you choose the format that best suits your needs.
The app's essential tools are easily accessible at the top of the screen. They include Media, Audio, Titles, Transitions, Effects, Elements (graphics), and Split screens. You can click on the buttons at the top right to access tutorials, help, your account info, or save content for later use. To get more effects, videos, photos, and audio click the Download button at the top right to download content from WonderShare FilmStock—to get more effects, videos, photos, and audio.
You can easily resize and reposition the timeline with keyboard shortcuts and use your keyboard arrows to move the mouse back and forth. There's a search box for searching the source panel and clear buttons for undoing or redoing your work. At the top of the timeline, you'll find Delete, Crop, Speed, Color, Green Screen, Motion Track, Keyframing, and Edit icons—the last of which opens a panel showing expandable entries for most of the previous ones.
The track count starts with only one, but if you add another video below your main footage, tracks are added automatically so you can keep layering.
Magnetic Timeline:
Once you drop a video on the timeline, it automatically snaps to the previous clip. Auto-Ripple is also on by default to ensure there's never any space in your movie. One can turn this off if you prefer, but it's cool to have your clips automatically flow together in one seamless piece. However, there's no trimming in the source tray, so professionally trained editors may not feel at home.
Filmora adds a plus sign at each clip and allows you to add them at the insertion point in the timeline. Helpful tracks are included for audio, making it easy to add and adjust sound in your movie.
Supports up to 4k
The program supports up to 4K video resolution and high-definition picture quality, and you can even import existing videos from your hard drive. While the software is free to use, it comes with an optional paid upgrade that adds additional features like animated text entry and audio filters.
Best Choice for Novice
Filmora is a good choice for novice users who want a full-featured video editor without many complications or advanced features. It's great for people who wish for a simple toolkit to make short home movies or family videos and share them on YouTube.
Wondershare Filmora Great Features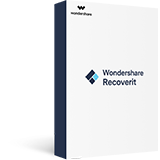 Wondershare Recoverit ESSENTIAL Win – Lifetime Lisence
One-Touch Editing
You can use Filmora for simple editing; a single click is all it takes to make a great video. It has lots of video effects and filters that you can use to make your videos unique. The Live Filters let you add graphics and text to your clips or photos as you capture them.
Live Streaming
Filmora makes it easy for you to live to stream your videos live. You can upload a video in just one click on Facebook Live or YouTube Live! You will be able to edit the footage before live streaming, then share it on social media sites in real-time so everyone can watch it instantly.
Screen Recording
This feature can help you record videos on your computer screen. It's handy if you want to create how-to videos or tutorials on popular software programs like Photoshop and others.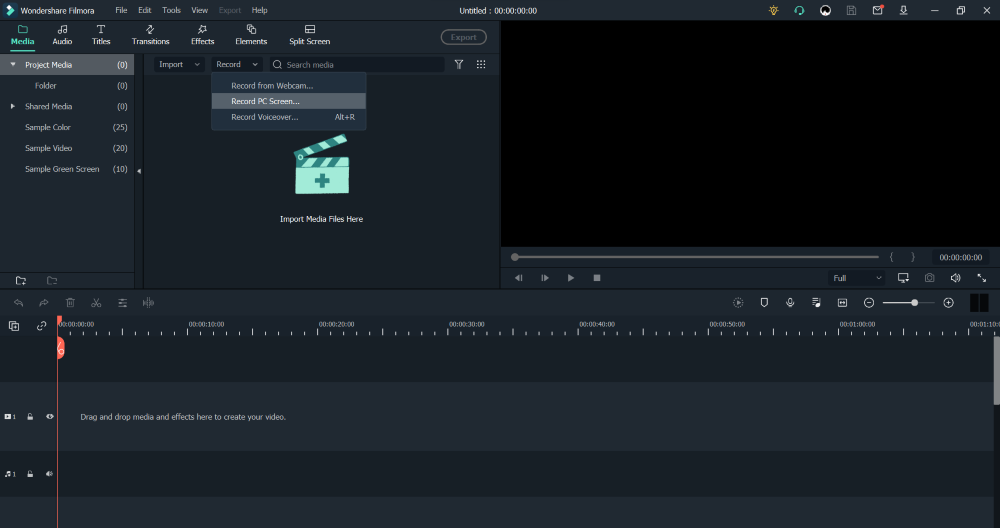 Personalize Your Movie with Titles
The Filmora video editing program also makes it easy to personalize your video with titles. You can choose from various labels that automatically match up with different portions of your movie. You can even select different text colors and fonts to add more artistic touches to your film.
Add More Artistic Elements
The Filmora video editing program also includes great tools for adding artistic elements to your film. Preset filters are available for adding different moods and effects and more advanced photo-editing options if you want to get creative with color correction or other changes to the raw footage in your movie.
Have Fun with Transitions
Experiment with transitions. When two clips are edited together in Filmora, there may be a visual break between them, and adding a transition smooths out this transition. The most uncomplicated transition is fade — select it from the "Add" menu and choose how long you want it to last (from half a second to one full second). You can also experiment with more complex transitions, such as wipes and dissolves.
Green Screen Effects
The Filmora video editor also has some significant effects. The green screen effect is an excellent way of removing distractions from your videos, like street signs or unwanted people appearing in the background. You can even add animated text over the footage to have credits at the end of your movie.
The Best Part?
You can take your created videos with you wherever you go! Filmora allows you to export your movie directly to YouTube, Facebook, or other social media platforms.
Tutorials
Many helpful tutorials allow you to create stunning visuals that you can use for videos. You can use these tools to add transitions between clips, split videos into multiple parts, or add text effects.
Collage
You can create engaging photo collages using different templates. This feature allows you to experiment with your creativity and share your best photos with friends or family members on social media platforms like Facebook or Instagram.
Video editing
Filmora9 video editor lets you make changes to your video clips to enhance the quality of your final product. You can cut unnecessary parts of a video file and combine different clips seamlessly to appear as one clip in the last movie.
Effects of Filmora
Filmora has more than 500 effects and 70 filters to choose from. In both cases, you can add text to your videos and photos and choose from more than 1,000 fonts. The program even has an auto-enhance feature that can improve any image automatically.
Filmora Audio Editor Built-in
Filmora also has an excellent audio editor built-in. There are many effects to choose from, so it's easy to enhance your music with unique features like echo or reverb. Filmora also has a basic audio recorder that will allow you to record vocals or other sounds on your computer.
Supports Popular Formats
Wondershare Filmora supports the most popular formats, including AVI, MP4, MP3, WMV, and FLV. It's unnecessary to convert files before import because Filmora supports 170 formats of importance.