It's no surprise that companies are continuously looking for new techniques to improve their SEO strategy and hire a reliable SEO agency to help with their SEO, given the ever-evolving nature of digital and content marketing.
Pages that provide users with valuable information perform substantially better than websites that focus on only the technical aspects. Thus, content is certainly king when it comes to SEO.
It's likely that you have high-quality content that people enjoy reading if your pages are doing very well.
However, it's not the simplest task to come up with the original content. Because, after all, you don't make stuff merely to put it on your blog. As a matter of fact, producing content that no one considers engaging or valuable is likely to produce more harm for your website than good.
Content creation based on user intent is an excellent SEO technique since it ensures that you are providing your readers with exactly what they are seeking.
It's crucial to regularly provide new content, but don't forget to revisit older posts that are still generating traffic.
Here's How To Get Your Outdated Website Content Up To Date For The Year 2023
There's no reason to stop using the previous content, so why not refresh it?
While you know that having high-quality content is essential to climbing the search engine rankings, you may be struggling with how to consistently produce new content. After all, your goal should be to provide content that not only outshines that of your rivals but also aids in the progress of your own business goals.
Fortunately, there is a solution that will allow you to make the most of the content already on your website: you can update the older content.
Rather than beginning from scratch, updating older content is a simple method to provide Google (and your readers!) with new material. That's good for your content and search engine optimization in general. The foundations of regularly updated content include inbound links, reader loyalty, and search engine optimization (SEO) techniques.
Here are some reasons why you should refresh your older posts:
Build your link profile.
In general, you shouldn't put a link on your site that directs visitors to a page that hasn't been updated in a while. If you're among the first to update your blog posts after they've been out for a while, you'll have a leg up on the competition.
A great opportunity to steal links from your rivals has presented itself. You may expect Google and other search engines to take notice of your regularly updated material.
Create repeat readers.
Even if the majority of your viewers just discovered your website, there is still the possibility that they will come across blog entries that are many years old. Users who are looking for the most recent information will be turned off by content that contains errors or is out of date.
Blogs that are regularly updated are seen as more reliable by new visitors. This demonstrates to them that the information you provide is up-to-date and accurate, which increases the likelihood that they will choose to use it in their research.
If your blog posts consistently draw in a large number of readers, it's safe to assume that those readers appreciate what they're reading. Providing an extra perk will almost certainly increase customer loyalty in this situation. By giving them new material to read, you increase the likelihood that they will stick around and explore the rest of your site.
Verify that your content still follows SEO best practices.
Google's system is always improving with new updates. It's likely that your blog post from two years ago hasn't been updated to reflect current SEO standards. It is still possible to do okay even if your page isn't fully optimized, but it will be much more challenging to rank highly.
Maintain page relevance by regularly updating material to adhere to search engine optimization best practices.
Improve your SEO rankings by updating your content.
Make sure the blog posts are SEO-friendly if you want to rise in the search engine rankings. While search engine optimization (SEO) experts keep up with frequent algorithm adjustments, those changes are typically only implemented in recently published blog entries.
When you keep your content fresh, you boost the effectiveness of your SEO efforts as a whole.
Keeping previous posts up-to-date is an excellent approach to boosting your site's performance without any effort. By bringing your blog's older posts up to date, you can improve its search engine rankings in a number of ways.
Some advantages of refreshing older material include the following:
A rise in visitors to your website
Better placement in search results
Improved site reputation and authority
Enhanced interaction with the product
Methods for Revamping Outdated Content
If you want to give your material a new lease on life, you'll need to find creative ways to update your pieces without making it seem like you're trying too hard. Various strategies can be used to revise older blog entries, and they should be tailored to the specifics of your blog's subject matter.
As suggested by the pros, here are some techniques to keep your blog fresh and relevant:
Include the year in the tagging system.
Metadata, including the title tag and the H1, are displayed to readers immediately upon interaction with a post. Adding the current year to your blog posts' metadata is a simple method to bring them up to date quickly.
When revising a blog post regarding SEO techniques, for instance, simply updating the metatitle and H1 to include the current year will improve its search engine rankings. This tells both Google and your readers that you've been keeping up with the material. Titles of articles and blogs that include the current year see a greater number of views.
Articles that must be regularly updated benefit greatly from having the current year included. The year can also be included in articles about trends, technologies, businesses, and yearly events.
Your article, too, needs to be brought up to date. When you make alterations to previously published material, be sure to update the article accordingly. Whenever you use this way to update your material, it will function as though it were completely fresh.
Increase the emphasis on existing keywords or focus on new ones.
Professionals often conduct keyword research as part of their SEO services. New material means you may need to use other keywords to attract readers. Working with experts who can guide you through this process can be beneficial for your website, as it is not as simple as just selecting new keywords.
Find out which keywords will get you where you want to go with the help of your SEO specialists. It's up to you to decide how you'll use these keywords when you write or revise your material.
Keep in mind that if you do decide to use these keywords. You should only do so if it flows naturally and the information you contribute provides real value to the reader.
Don't just skip over the "People Also Ask" section; instead, answer all of.
Social media marketers can use the "People Also Ask" queries displayed in search engine results pages (SERPs) to get a sense of the kinds of inquiries their target audience might have. Improve the quality of your blog entries by responding to the following questions.
The more often asked questions your blog article answers, the more credible your page will appear to your readers. Incorporating a new section into your blog post or even just a few extra words is easy.
An easy method to add new content and expand your word count is to address the questions posed in the "People Also Ask" section.
Embed internal links.
Optimizing your blog with internal links is a smart idea. Newer posts can be highlighted if you update older ones by including internal links to the content you're editing. If there has been a lot of recent writing on the subject, this is an invaluable resource.
Including internal links in your most recent posts is a terrific strategy to keep both Google and your viewers engaged with your site.
Reference/Links recent research.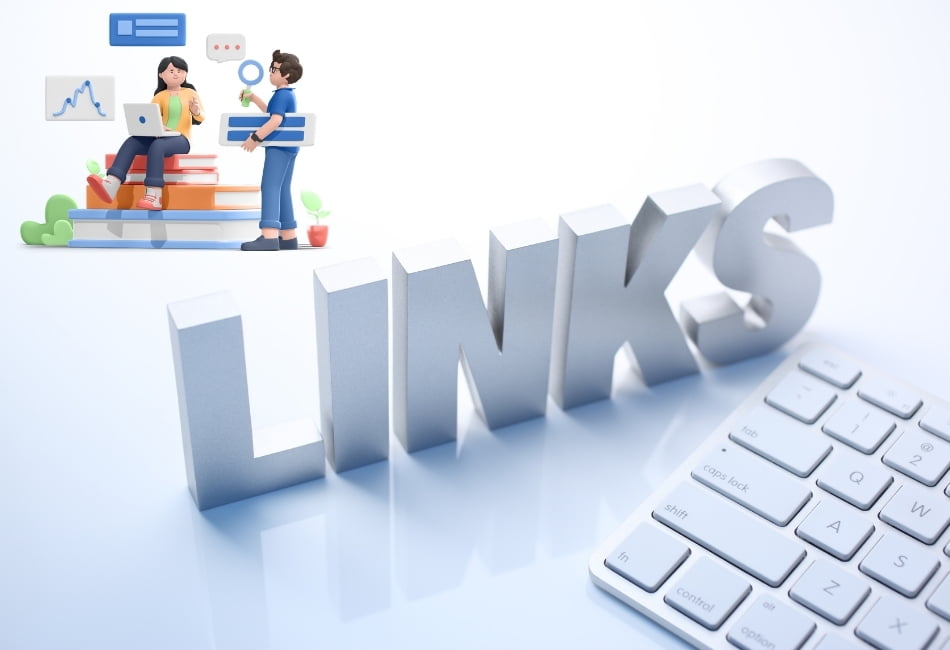 If your piece was written within the past year or two. It's likely that there is now research that strengthens or verifies your previous claims. For evergreen stories that continue to gain in popularity, this is especially true. Remember to incorporate these more recent studies into any material updates that rely on your data.
Your blog entries will be taken more seriously if you include external links to authoritative sources. Especially if you do extensive data-driven research in your article.
If you're making statements in a blog post, back them up with data and statistics to verify their veracity, and then connect those numbers and figures to an authoritative website to increase your piece's credibility.
Make changes in response to the content produced by your rivals.
You don't have to go very far to get stuff that can be reused. Keep your friends near and your "enemies" closer, as the old adage goes. You won't go to war with the competition, but you can learn from their tactics.
Examining the content of competing websites can help you figure out where you can make improvements to your own. When you look at your rivals' social media pages, what kinds of posts do you see? Can you tell me which blog posts get the most views and why?
Keep an eye on their profiles so you may identify loopholes and weak spots in their plans and adjust your own accordingly.
Back up your SEO and head back in time!
Let's be honest: it's not easy to come up with new material to share. Due to Google's emphasis on quality material, it might be challenging to maintain a high volume of consistently high-quality outputs. The good news is that "fresh" content doesn't always have to be created from scratch.
There's a common misconception that constantly producing new material is the best strategy. Read through some of your earlier entries. These are great tools that you may utilize as they evolve and improve to aid in the creation of content. Look at the content that has performed the best and figure out how you can make it even better. Use these recommendations from SEO specialists to update your blog entries and see your SEO efforts pay off.