Feedly has been a favorite amongst readers who want to stay updated on their favorite blogs, news, websites, and other self-made sources. Nowadays, most people are going for the best Free News Aggregator and feed application like Feedly to decrease the use of any third-party app and have an easy time due to one-click access. In this post, we will be discussing Feedly review 2022.
What is Feedly?
Have you ever heard of Feedly? It's an RSS feed aggregator, which means you can access many different news sources while just using one site. Feedly has grown significantly in popularity over the past few years, with more and more users signing up every day. It has 14 million users.
What is a news aggregator?
A news aggregator, also known as a newsreader, aggregating news website, or feed reader, is a computer program that collects syndicated web content (typically blog entries, news headlines, and articles) and presents it in a user-friendly interface. The content is usually gathered from multiple websites in real time. The news aggregator provides like-minded people with a single interface to get all their news from the websites of their choice.
Why is it essential to have Feedly Account?
Feedly offers its user content from over 15 million sites, including news sites like Tech Crunch and The Verge and blog sites like Lifehacker. Users can organize their feeds into categories and subscribe to an unlimited number of meals.
The Feedly browser extension allows users to save articles they find on the web into their Feedly account. Users of Feedly can also access their subscription through the cloud service at feedly.com, which allows them to read their feeds on any device running iOS or Android.
The Feedly apps are free, with paid options available for power users (including Evernote connectivity).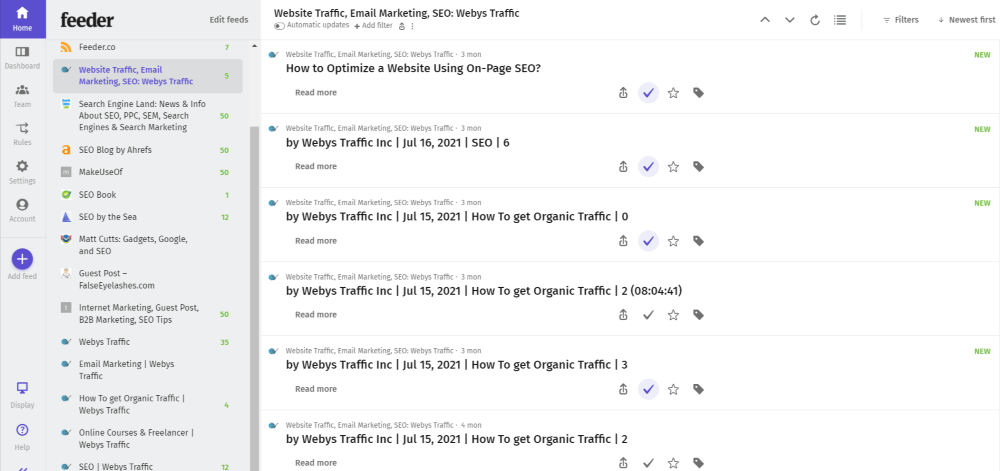 How do I use Feedly? Feedly Review 2022
Feedly is a great way to organize and read your favorite blogs and news sites. Instead of checking ten different websites every day, you can use Feedly to combine them into one place and read everything at once.
To start, create an account on Feedly.com or download the Feedly mobile app on iOS or Android.
Once you have an account, you can follow your favorite publications by entering their URL at the top of the page. Or search for specific topics like SEO or eCommerce to discover new sources of information to follow.
Once you have some topics and sources in your Feedly, you can start reading! You can read articles from anywhere — your computer, phone, or tablet — because Feedly syncs across all of your devices. And when you find an interesting piece but don't have time to read it right now, save it to Pocket with one click so you can come back later.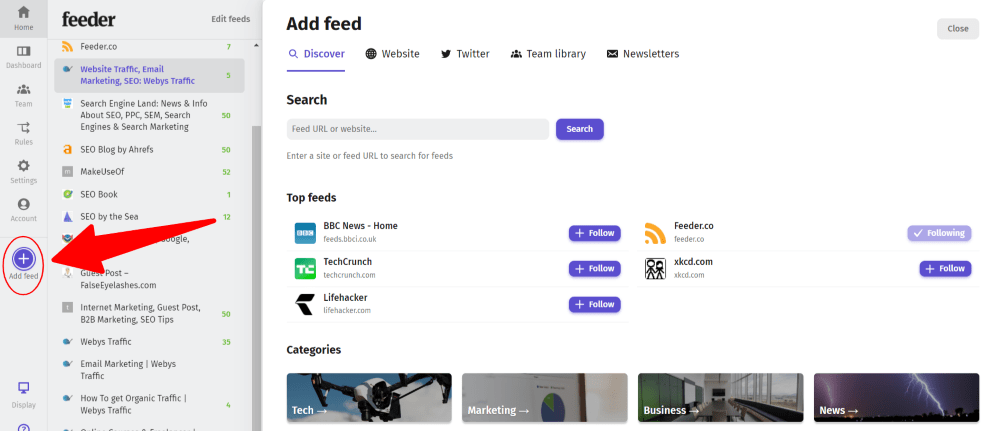 What kind of information is in Feedly
You can use Feedly to follow blogs, Youtube channels, Twitter handles, Facebook pages, and much more. Use Feedly to read news from online newspapers and magazines. You can also use Feedly to save recipes, DIY tutorials, or fashion inspiration.
What do I get with a Feedly Account?
It is a free service that helps you discover and organize the knowledge you need to grow your business.
Feedly Free Version
Feedly is an excellent option for those just getting into the RSS game, thanks to its clean layout and a broad range of content options. With the accessible version of its service, you can follow up to 100 sources, all categorized into three primary feeds: news, sports, humor, or whatever your interests lie in. It also provides information on how popular each article is, both on Feedly and across other social media networks, so you can get an idea of what people are reading without being dictated by that info.
Feedly Pro, Feedly Review 2022
Feedly Pro is a premium version of Feedly. It allows you to unlock the full power of your Feedly and take your content consumption to the next level.
With Feedly Pro, you can use powerful tools such as Evernote, Pocket, and IFTTT to save content for future reference and share your favorite stories with your colleagues, friends, and family. You can also search the full text of all your feeds and sources, including content from Medium and Twitter. And starting today, you can find articles from your favorite newsletters in Feedly.
Feedly helps you explore the topics that matter to you through thousands of diverse voices on Feedly. You can also use Feedly Pro to follow business events and filter out duplicate articles, so you never see the same story twice in different publications.
Feedly Setup and Navigation
The Feedly home page has a simple, green interface with the logos of various news sources aligned at the bottom. To begin, you must sign up with your Google account. If you already have a Google account, you can use it to log in; if not, you'll need to create one.
Once you allow Feedly to connect to your Google account, your homepage will load immediately.
The interface is divided into three sections:
A column on the left (displaying fresh news topics and saving stories to read later).
There is a prominent content section in the center (for viewing a Featured Story or browsing through fresh or saved news topics).
A sidebar on the right (showing links to your favorite news sites and displaying Amazon affiliate ads).
It has an easy and basic layout for navigation. It has various themes and categories to customize your experience.
Why should I use Feedly over other RSS Readers?
1. Feedly is fast and beautiful. We worked hard to make Feedly quick and easy on the eyes.
2. Feedly is more than an RSS reader. It can also aggregate content from Twitter Lists, Twitter Searches, Google News, Google Blog Searches, YouTube Channels, Flickr Groups, and Pinterest Boards, in addition to traditional feeds from sites like The Verge or Engadget.
3. Feedly has Android, iOS, and web apps that sync. You can start reading something on your phone and pick it up later on your computer or tablet.
4. Feedly syncs with Evernote and Pocket so you can save articles for later use or archiving.
5. Feedly is optimized for touch devices (iPad, Android tablets), so you can swipe through articles quickly and easily.
6. Feedly lets you share articles via email, Facebook, Twitter, and Buffer with a single click or tap, enabling you to share exciting content with a few friends or your entire network.
7. Feedly has easy-to-use search capabilities – so you can find any article fast on any device no matter how many feeds you have added.
Bottom Line
After reading Feedly review 2022, it's easy to look at Feedly and RSS as outdated when in reality, they are still relevant tools for any web professional. If anything, reading RSS feeds gives you many advantages of browsing the web without a browser. It's a straightforward way to keep tabs on industry trends and news without having to change applications or interrupt your workflow. You aren't beholden to the mouse wheel, so you can focus entirely on mastering your trade. Whether it's WordPress, CSS, web typography, or Javascript, there is never an excuse for falling behind.