Do you need Free Do-Follow Backlinks & No-Follow with High Authority for your SEO strategy? We've got you covered! This article will show you how to create do-follow backlinks on some of the most famous authority websites. Using these strategies will help your sites rank better on Google. If you're interested in going from unknown to SEM (Search Engine Marketing) rock-star, follow this guide.
How to find Do-follow Backlinks
Find do-follow backlinks with high authority and very easy. Get the most powerful SEO backlink tool that helps you find the right place to put your link and get on top of your keyword rankings on google. It's all legal, solid, and ethical. Action is needed if you want your business to grow, referring to external links or websites is a perfectly fine way to achieve this.
Do-follow Backlinks List
Authority backlinks are the ones that help to push your website to the top of search engines. These backlinks are high quality, permanent, and come from a trusted source. To get authority backlinks, you need to submit your website to sites with high domain authority.
Do-follow backlinks are the most important part of SEO for your website. If you want to rank well in Google, it is mandatory to have do-follow backlinks from other websites.
There are many ways to get do-follow backlinks but most of them are either expensive or time consuming. So I have collected the following websites where you can create powerful do-follow backlinks. These websites have high domain authority.
How to Create No-Follow Backlinks on Flipboard
Let's build backlinks from a website called Flipboard. The domain authority of this website is 91, so you can Google the name if you'd like to know more.
Step 1
To sign up: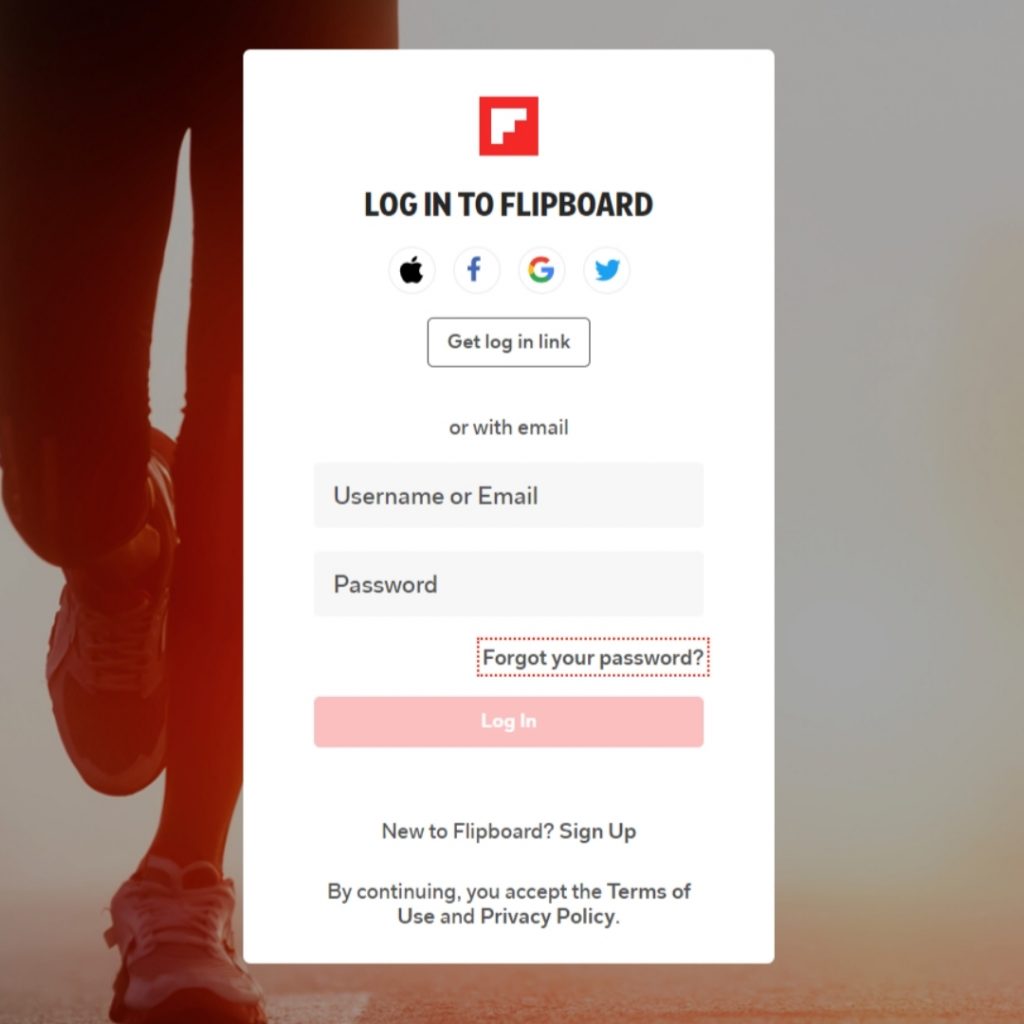 Click Sign up on the home page. You'll be asked to either sign up with your email address or Facebook.
Use an active email address because you need to receive a confirmation mail to verify your account.
After filling in your details, click on Sign up.
To complete registration, head over to your mailbox and open the verification link sent from Flipboard. After verifying your account, refresh the page.
Step 2
When you create a Flipboard account, you will be asked to pick a few boards from different categories. It means that Flipboard will be able to suggest articles and photos that you might find interesting. For example, you might pick a board about cooking or fashion. Each panel will show you content from websites that match your interests. After selecting boards, you will be redirected to the homepage.
Step 3
Before you start building links, you should set up your account by clicking on the avatar at the top of the screen and then clicking on Settings. Write a brief bio about yourself or your website.
Step 4
To ensure that other users and search engines can find your posts, confirm your account is not set to private. Once you've done this, click "Save." To build links to your page, click on the paper clip icon.
Enter any name in the "Name" box to create a new magazine. It will make organizing all of your links easier, so give the magazine a good title and write a description. If you would like, you can change the visibility setting to public. Once you are done, click on Save.
Step 5
After you have created a magazine, copy the URL of the webpage where you want the backlink and paste it into the first box. Add a comment to help humans better understand what your link is all about. Click Save Now. Now refresh the page, and you will see the link.
SEO is a long process, and it can be very frustrating to get your website ranked on the first page. However, if you have authority backlinks, you will have an easier time ranking your website. It's good to spread your website's juice around by giving authority links to several pages. Although building links is great, avoid spamming websites with your link. Keep it moderate and make it look natural, or else your account may be deleted. This is how you get backlinks from Flipboard Now to our following backlink websites, Seed and Spark.
How to Create Backlinks on Seed and Spark
The second website is called Seed and Spark. It has a domain authority of 64, which has decent search rankings.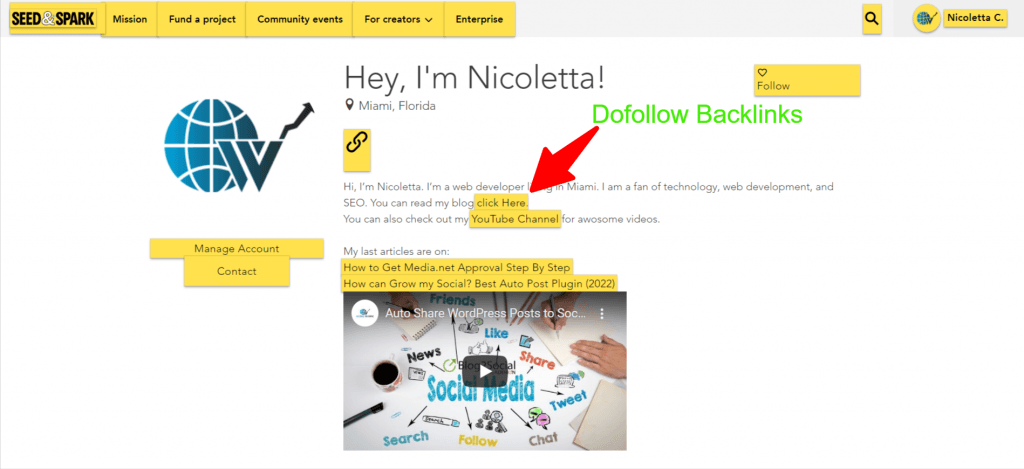 Step 1
To build backlinks, you must create an account on this website. Click the Sign-Up button to proceed. Fill in your email and password and select an active email address—you will need to verify it later. City selection is vital because this website is mainly for people living in the United States; if you choose another location outside America, the service will not work. Once you have completed it, click Continue to complete your registration.
Step 2
To build a backlink, go to your profile and click "manage the account." Your account dashboard will open up. Scroll down and type a description of yourself. This is where you'll add your URLs. Make sure your bio sounds natural.
Try to include your keywords in the links you create, but don't overdo it or be spammy. Use the anchor text of your keywords when you make links. You can also use backlinks to help improve YouTube video rankings on search engines.
Step 3
Once you have saved your profile, please add your web address to the space provided below. If your email address is not verified, this action will not be held, so make sure you have verified it. Please request a verification email if you cannot find it in your inbox once completed this step. Click on Save to view your profile to ensure that the links are working correctly.
After you build backlinks, the next step is to wait for the search engines to discover your new pages. Some links stay for more than a month and won't get indexed. So make sure to index those links in google for better performance.
How to Create Do-Follow Backlinks on Linkedin
The following website from which we are getting instant do-follow backlinks is LinkedIn.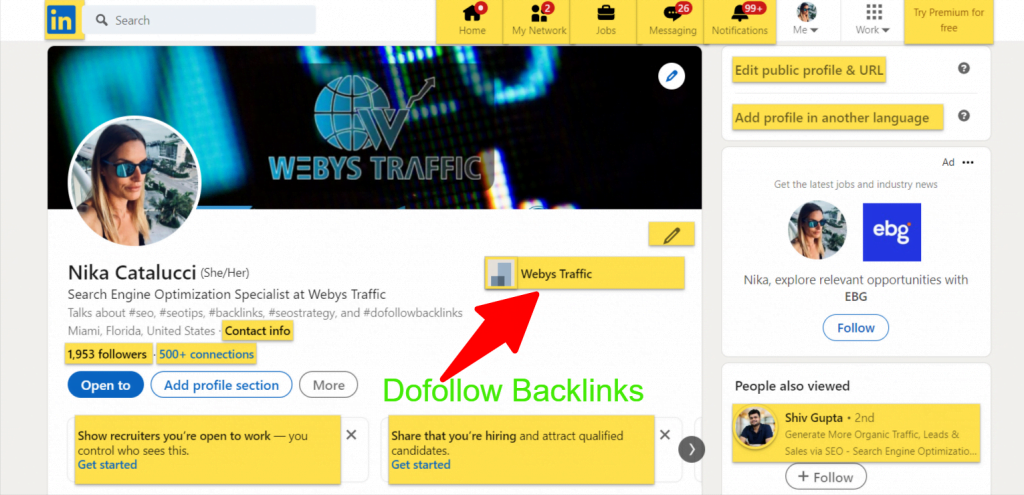 Step 1
To start with, you should create a free account on LinkedIn. You can either sign in using your email address or your Google account. If you already have an account, click on the Sign In button.
Step 2
Let's go ahead and click on the profile. You can always click on the pencil icon to edit your information when you get there. But the important thing, for now, is the Contact Info. You can paste your website link to get profile backlinks, which will be do-follow backlinks.
Click on the pencil, then type in the website address. Then click to add a link, choose from a list of categories, and organize a title for your new connection. The good thing about LinkedIn is that once you have backlinks from your site, they will get indexed quickly.
Free Dofollow Backlinks on Diigo Step By Step
Diigo is a social bookmarking site that allows you to save and share your favorite webpages. It's also an online productivity tool that allows you to annotate, organize, and share with other people.
Diigo is a great way to get backlinks. Follow the steps above to see how you can do it easily too.
Step 1: To sign up for a free account, click "Sign Up" and wait for a second. Then click on "Choose Plan" and select "Free Plan". Put your email address in the field provided, then click "Create Account". Now check the box labeled "I am not a robot" and click "Verify".
Step 2: Account Verification. They'll send an activation email, so check your email and click the link to activate your account. After activating your account, you'll be taken to Diigo's website. Now your account is active, and you can start creating backlinks.
Step 3: Click on Next. Now click on "Add a bookmark" on the right side of the screen. Here, type in your website's URL and name it. You can also add your homepage if you want to, or just add a page you recently published. When done, click on Add. Now write a description that corresponds with the link you chose for this bookmark.
Once you have added the backlink, you can see that it is added. If you click on the title, it will redirect you to the page URL so this way, you can add a backlink in this website. You can add many backlinks in this website by following the steps described above.
What Is Domain Authority?
Domain Authority is a metric that Google uses to measure the authority of a website. It's based on a 100-point scale, with more points awarded for more backlinks, more social shares, and more traffic. Google gives a higher score to sites with high DA because they know that people have vetted them and found their content valuable enough to link to it.
Why Do Authority Backlinks Matter?
The crux of SEO is getting your content out there so that people can find it and read it. If your content is buried beneath dozens or hundreds of other websites, you won't get much attention. By getting links from high-DA websites, however, you're going straight to the top of search results—and getting all that precious traffic.
How to Build Backlinks from High-DA Websites?
There are different ways to build backlinks from high-DA sites:
Guest blogging
Find blogs in your niche (or related niches) that accept guest posts and pitch them an article about something related to their site's audience. Make sure that you include some relevant links in your blog post and some social media sharing buttons for the author and site owner. You might even have a link to one of your other articles or pages at the bottom of the post to help get people who read it on your website.
Blog commenting
Comment on posts by bloggers with high DA websites. Be sure to include an interesting, compelling comment that will make them want to respond while also linking back to one of your blog posts or website pages (if there's a relevant one). It can help get both the blogger's attention and their site's authority behind yours.
Answer questions on Quora
Quora is a Q&A platform where people ask questions and others answer them. You can answer questions on your topic and add a link back to your website when appropriate.
Submit articles to directories
Several directories out there accept quality content submissions and will link back to your website at no cost to you, provided that they like what they see.
Profile Backlinks
Add links to your profiles on social media or other websites with high DA and relevant to your industry. You can do it professionally by linking your website in your bio and profile description where appropriate. Alternatively, you can do it more informally by sharing content from other websites that you think will be interesting for their audience (with a link back to their site).
Final Thought
Although getting high-quality backlinks is necessary if you look to rank your site, using both no-follow and do-follow links will help spread link juice more evenly throughout your website. It is also essential that the pages you link back to are relevant to the page they are linking to. Just as with the anchor text of your backlinks, an appropriate link is much safer than one that is not relevant. There is a lot more to this topic, but this article should help you understand why authority links matter and how you can get them for yourself.