Were you ever frustrated that your blog post was not shared or even read by the readers? Are you a blogger or a writer? Then if yes, blog2social is the place for you. blog2social permits you to share your blog posts intelligently. It'sIt's a social media sharing platform that provides different options to share your content. Let's read the Social Media Auto Poster, blog2social WordPress plugin review.
Social Media Auto Poster
If you are searching to get more traffic or want to make sure your posts on social media networks get seen by as many people as possible, then a social media auto poster can help. You must choose the right software for this purpose since it can promptly assist you in achieving your goals.
It is one of the first things you need to consider when choosing this type of software. If you need to promote your business or website on social media sites like Twitter or Facebook, you must choose software that will allow you to post on these sites automatically. It will help you save time and money when marketing your business online.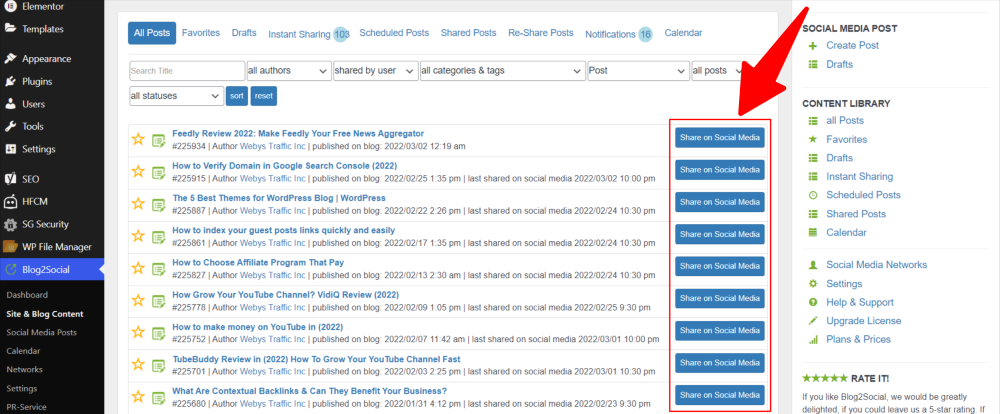 If the software does not provide users with this option, you should look for another one. It can be a handy feature, especially if you are trying to reach out to potential customers. Who might not have time to read every post they see on your blog or website.
Sharing Blog Posts and Social Media Importance
Social media is a great way to promote your blog. It's free, and it can help you reach a broad audience. Including people who don't already follow you on your site.
But to get the most profit from social media, you need to be active across several platforms. You also need to post regularly, share new content, and engage with your followers.
In other words, social media marketing can be highly time-consuming, and it can quickly become a full-time job in its own right.
If you want to detour that happening. You ought to find ways of automating your social media activities so that you can share content regularly without having to put in too much work.
One of the best solutions is via the Blog2Social WordPress plugin. It allows you to automatically share new posts from your WordPress blogs on all the leading social networks – Facebook, Twitter, LinkedIn, Pinterest, Xing – plus many more.
What is Blog2Social, Social Media Auto Poster
Features
Share your blog posts to other social media channels
Boosts your blog's popularity from day one with no effort
Easy to use, simple interface, integrations with the most used social networks
Increase your blog traffic, followers and comments
Social media may be the buzzword of the decade. But there is a way you can use it to promote your blog as well. Blog2Social is a plugin that can help you gain more followers, traffic, and comments on your site.
The plugin allows you to publish blog entries directly to Twitter, Facebook, and other social networks with a single click. It means that any time you have a new blog post, you can instantly tweet it or share it on Facebook. Which will help increase your site's visibility.
This plugin also adds shortcodes. So, you can add social sharing buttons to any post or page on your site. This way, visitors who are using social media will share your content with their friends and followers easily. Which should help increase the number of people who visit your site in the future.
Installation of Blog2Social Plugin
Installing Blog2Social can seem a little daunting at first. But the steps outlined below will guide you through the installation process with ease.
To install a WordPress plugin, you can either go to your WordPress Admin Panel and search for it. And download the plugin from the repository and choose the Add New Plugin option.
You can access Blog2Social through the WordPress menu option.
Connecting networks
Although it is relatively easy to share your content on social media, connecting your blog to those networks can be time-consuming and confusing. Blog2Social makes the process much easier.
The connection process follows the standard authorization process for each network. After clicking Connect, It will take you to a screen that lets you choose which account you want to link to Blog2Social.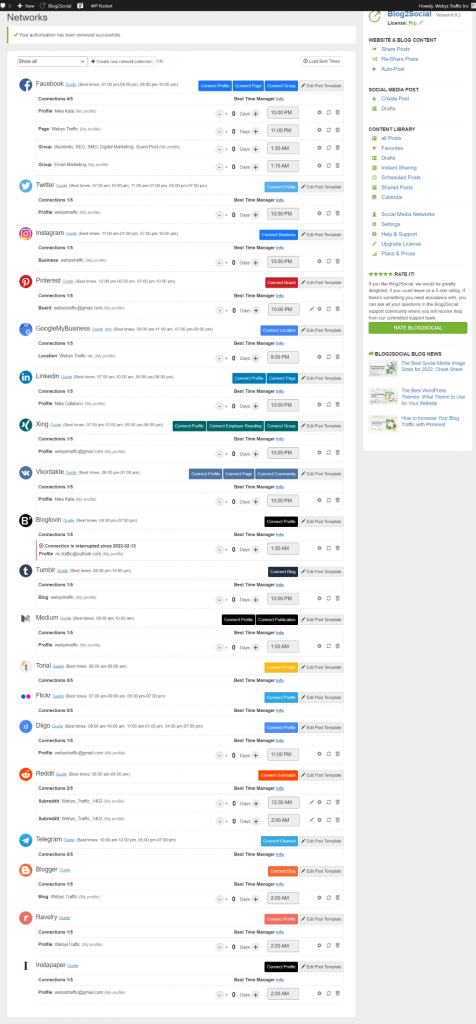 blog2social enables you to easily connect your blog to many social networks, including Facebook, Twitter, LinkedIn, Instagram, Pinterest, Reddit, Tumblr, Medium, Tutorial, Flickr, and Delicious.
You're allowed only one connection per social network in the free version. Each social network connection adds a new page link to your Default Profile, and You'llYou'll use this later when you come to share posts.
Share an Existing Post, Social Media Auto Poster
When you choose the Posts and sharing button from the navigation bar in Blog2Social, you can view all of your blog posts.
You can find posts quickly using the search, tags, categories, and post types filter. Once you click Share on Social Media, you can share it to your blog, and social network feeds.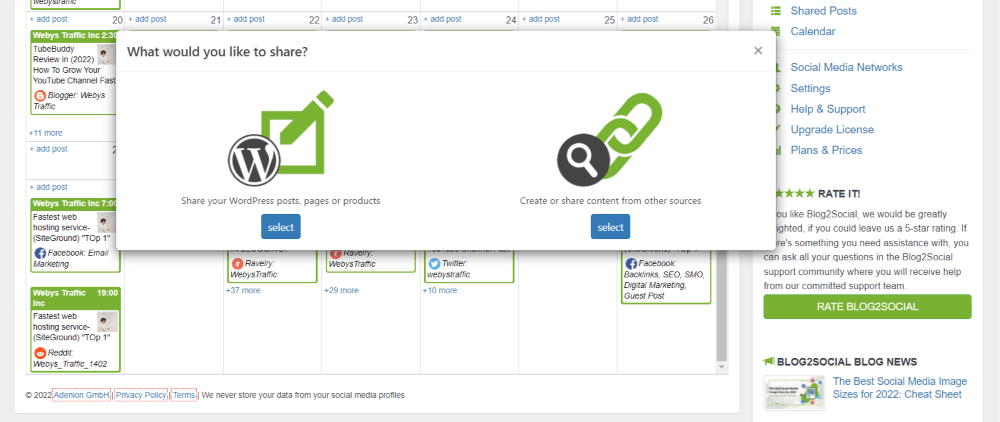 You'reYou're now in the Custom Sharing screen.
The Custom Sharing screen gives you various options for sharing your posts.
Some Great Features of Blog2Social
Social media management – simplified!
Blog2Social is your all-in-one social media manager and social media automation tool. Blog2Social transforms your blog posts and images into the optimal format for each social network. Share your article or blog posts on your social media networks automatically, manually, or at your scheduled best times to boost engagement.
With Blog2Social, you can easily schedule, automate and share your blog posts on Facebook, Twitter, LinkedIn, XING, Instagram, Pinterest, Tumblr, Medium, and Google My Business.
Blog2Social helps you manage all aspects of social media management in one place. Content curation, post scheduling, and cross-promotion can save you time and help you get the most out of your social media marketing efforts.
Post Scheduling
Blog2social lets you do just that! With a simple interface, it's elementary to schedule your posts at the optimum time of day, and it helps to guarantee that your posts have the best chance of engagement and backlinks.
Customize the Scheduling of Posts
Save time by choosing a social media account and the frequency of your post. You can also save your position as a draft, to be scheduled later. Blog2Social provides an easy way for you to automatically or manually share new or old posts multiple times on all your social media channels with the best timing for each network. You can customize the scheduling, text, and image settings for each social network, as well as keep track of all your shares, likes, and comments in an organized dashboard.
Custom Sharing
Blog2social is the only social media management tool to customize your posts for each network. You can easily personalize and edit your social media posts for Facebook, Twitter, Google+, LinkedIn, Instagram, XING, and Pinterest. You can also use Blog2social to automatically share your posts on Facebook, Twitter, and LinkedIn as soon as you publish a new post on your blog.
Best Time Schedule
As a blogger, you know that the success of your post on social media is vital for your business, and you are probably sharing your posts in several places. But did you know that the correct timing determines whether your post will be read or disappear in the endless stream of social media noise?
The right timing drives more traffic to your blog and helps you generate more leads. Blog2Social knows when it's "rush hour" on each social network so you can reach the target audience.
Blog2Social shows you the exact times to share your content on Facebook, Twitter, Google+, Pinterest, LinkedIn, Tumblr, and Reddit. The schedule is based on current research, which shows the best times to publish content on these networks.
Automated Publishing
Blog2Social automatically shares your posts and connects your blog to social media accounts. Reach your readers and followers on social media with the click of a button. Connect and publish on Facebook profiles, pages and groups, Twitter, LinkedIn profiles and pages, XING profiles and pages, Instagram, Pinterest, Tumblr, Medium, and Google My Business pages. Would you like to save time while scheduled posts are shared across all connected social media platforms? If so, Blog2Social Premium is right for you!
Select the Post Format
Choose from various pre-formatted post templates for each network, including optimized link previews for Facebook and Twitter with the appropriate thumbnail and title.
In addition to the standard formats for your posts, Blog2Social also comes with several "premium" designs that allow you to share your content in a more visual, engaging way:
Facebook – Photo Gallery Post
Twitter – Image Carousel
Pinterest – Pin Board Post
Brand Tracking
Keep track of your brand mentions across social media with Blog2social. It monitors blogs & forums all over the net 24/7, continually identifying trends in your market, looking for key influencers who will help spread your message, and notifying you when search engines are finding your site. The results? Increased website traffic, more sales leads, higher search engine rankings, more significant social media impact. Blog2social is like an extra pair of eyes on the internet – scanning through blogs, forums, and news sources to identify and notify you of essential mentions of your brand.
Collaboration Tools
Get a premium plan for teams to design and schedule your social media campaigns according to your needs. Blog2Social allows you to collaborate at various levels with different access rights. You can invite users to create their posts, review or modify shared posts, or hand over the entire management of your social media accounts.
Content Management
Blog2Social helps you to manage and republish your posts and content online quickly. You can automatically schedule and reshare your blog content on multiple social networks or reuse it as a new post for your social media schedule. The Blog2Social publishing calendar gives you an overview of all the scheduled posts with a blog preview to better plan and monitors your social media content. Manage blog posts with automatic schedules, customizable post formats, and pre-made posting templates for all social networks.
Customer Engagement
Blog2social is a powerful new way to engage your customers, increase traffic to your site, and grow your business. Blog2Social is a web-based application that allows you to post to multiple social networks all at once – website updates, pictures, videos, showtimes, news, and more!
Customer Segmentation
With Blog2social, you can easily segment your audience – Create and post content to different platforms simultaneously – Identify which platforms are working best for your business – Fine-tune your segmentation by listening closely to the conversations on the channels you're already using.
Multi-Account Management
Manage your multiple social media accounts from a single dashboard with our all-in-one Multi-Account Manager. Post to Instagram, Facebook, and Twitter simultaneously, schedule tweets and posts to go out at the time of your choice while you focus on other tasks, and much more!
Reporting/Analytics
Learn how your posts perform on social media with your Blog2social platforms and the Blog2social Reporting and Analytics. Automatically receive individual reports for each message you post to social media. See how many people clicked on your links, shared your post, and visited your site directly from your Twitter, Facebook, and LinkedIn messages. Track the reach of all of your notes with the Blog2social Report Dashboard to make sure they reach their target audience. With the new Blog2social Analytics Reports, you learn how well every single blog post performs on social media.
Is Blog2Social Worth it?
Blog2Social is a free social media tool that helps manage your blog's social media accounts. It saves you time and helps promote your blog by providing you with a one-stop shop for all your social needs. It works with many blogs within the Blogging discipline & experts in this industry have found that it has some great features that are beneficial for blog or website traffic.