ShareASale is a premiere affiliate marketplace that is based in Chicago, Illinois. It pays commissions to affiliates based on sales. As an affiliate marketer, you can select 2,500+ programs that permit you to earn these commissions & rewards. Furthermore, the ShareASale marketplace operates a network of merchants. It's a complete ShareASale marketplace review that will help you boost your earnings in 2022. So, let's deep dive into it and explore all about the ShareASale affiliate website.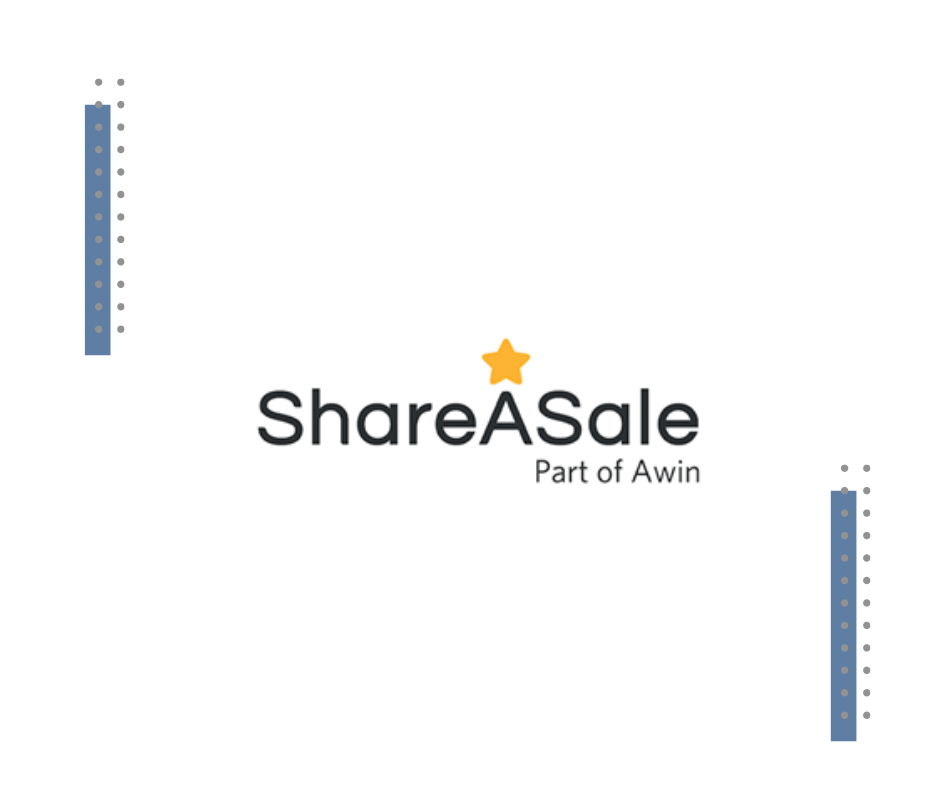 ShareASale Marketplace Review; How to Join ShareASale For Free?
In this write-up, we'll talk about all the points about the ShareASale Affiliate program marketplace and guide you all about this marketplace. Also, provide you with complete assistance in joining ShareASale without paying any charges. In this write-up, you'll know if ShareASale is good or not. In addition, if you are looking for strategies to make money through this affiliate program, you are in the right place.
ShareASale Marketplace Review: What is ShareASale Affiliate Marketplace?
ShareASale is part of Awin, which has been in business for over 20 years; it's an affiliate marketing network. It has earned an excellent reputation among affiliate marketers for its exceptional marketplace programs, which create revenue for many affiliate marketers.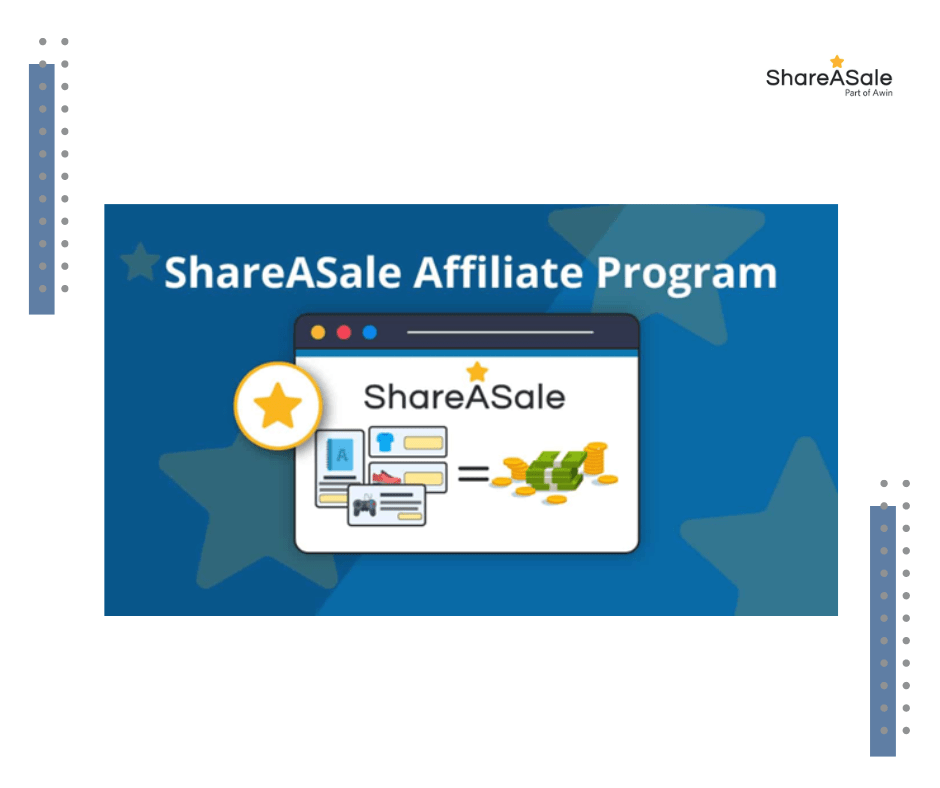 It pays you on the time you prefer to do is promote the programs you join from the ShareASale Affiliate marketplace. A ShareASale product consists of all the categories you might think. So, if you are a blogger, no matter your niche, you can select ShareASale to boost their products on your blog. in return, you will be able to generate revenue.
Here, we are giving the ShareASale marketplace review based on our own experience, so let's move further. In this program, affiliates send a request to join any of the merchant programs. The application and merchant should be relevant to products in your niche to get accepted quickly. You must provide your Blog link, niche, or any other requirement such as your portfolio link to get accepted to a program.
After the sending proposal, you will get accepted for a program to promote their products. Some merchants can also deny you from getting accepted to their affiliate program. In that case, You can write a message to that affiliate program company or merchant to know the reason behind the denial. If you are running a good blog with a good topic, then your chances of getting accepted to the program will increase, and you'll get the order in a minimum time & very quickly.
How Does ShareASale Marketplace work?
Before knowing about the process of the ShareASale marketplace working, you have to understand some terms that are being used in the Affiliate marketplace.
Affiliate Marketers:
This is you & me, who have joined an affiliate program to foster products and earn commissions from selling those products. It's a great way to earn from product sales without any investment.
Merchants:
These are the companies or industries that own the products or services you, as an affiliate marketer, are willing to promote in return for some commissions. Your contact them and ask them to join their affiliate program.
Affiliate Marketplace:
This is the platform where an Affiliate Marketer can search & find products to foster. The ShareASale affiliate marketplace is full of products from every niche so that you can select from a wide range of products.
Affiliate Software:
Affiliate Software hosts an Affiliate marketplace and plays a role as a bridge between Merchants & Affiliate Marketers. This arranges the Affiliate links and payments procedures for Affiliates.
Here in this context, ShareASale is the affiliate software. So, the ShareASale affiliate marketplace performs as a bridge between an affiliate marketer and Merchants. This is a beneficial tool because the entire merchant can't able to find Affiliate Marketers to join their program. Or, Not every affiliate marketer can go to individual companies or industries and ask to join their programs efficiently. So, it's the best approach equally crucial for both parties.
Payment scenario or process on the ShareASale marketplace;
Before joining any of the programs, people are concerned about the payment process. It's useless or practical to join any Marketplace without confirming their payment method. It's a complete ShareASale marketplace review, so you'll get all the relevant information here. Let's talk about the payment scenario in the ShareASale marketplace.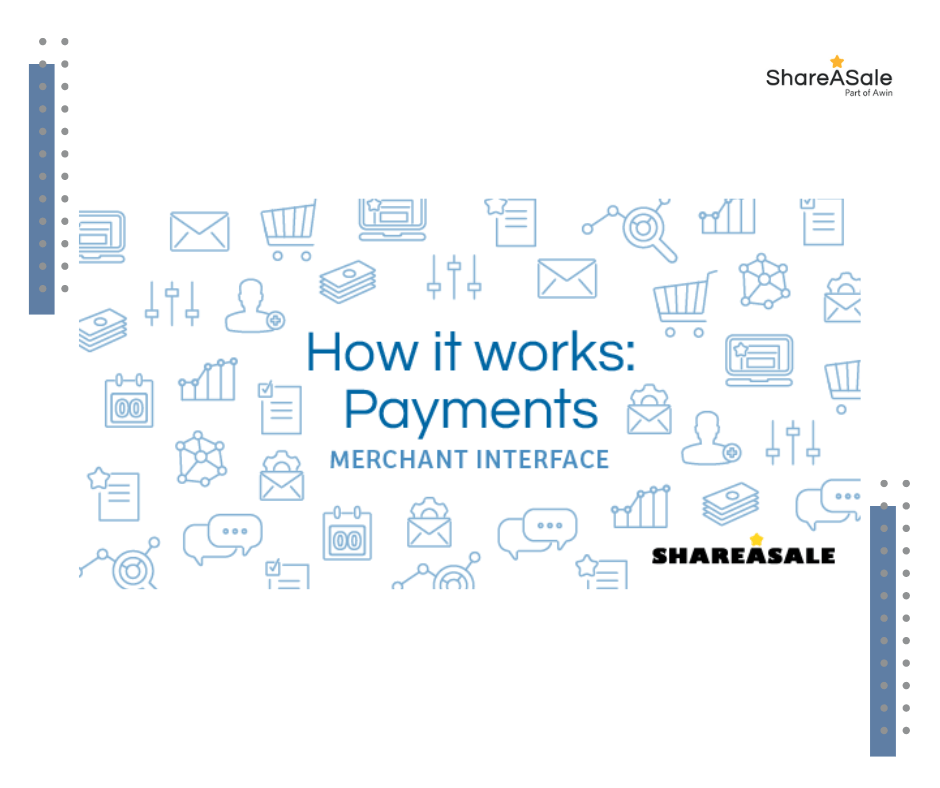 1. Pay Per Sale:
Pay per Sale is the most common method of getting payments. Here you will get paid when you sell any products to a Merchant. Pay per Sale has a higher commission or reward typically as compared to the bulk quantity so that you can earn more money very quickly and in a short time.
2. Pay Per Lead:
In this scenario, merchants have to pay you based on action on their website. This can be as a form fill or signup on the merchant site. You are paid based on conversions or impressions. This process has lower commissions than the pay per Sale but can be beneficial because merchants have higher conversion rates than Pay per Sale.
Step By Step guidance; How to sign up for the ShareASale Affiliate program?
If you want to join ShareASale as an affiliate marketer, we are providing you with complete assistance that will lead you to join this exclusive program.
Firstly, you need to land on your ShareASale affiliate website and signup for a free account. You can get a free signup option very quickly. It's the same as that you are generating any Facebook or Insta account.
Secondly, after signing up on the ShareASale affiliate website, you have to enter the link to your website/blog. Please keep in mind that it's preferred to have a blog or website to work on it. If you don't have a blog or website, let's make it first. It's not such a complicated process. Once you have fulfilled the requirements for step 2 (blog/site link), move to the next step.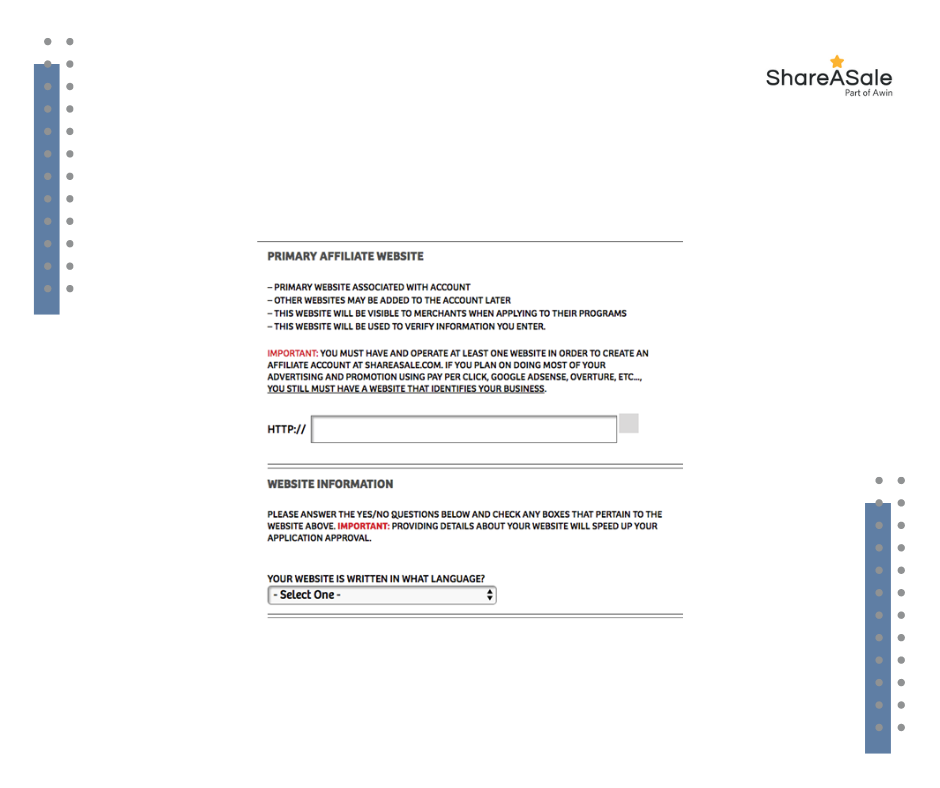 In the step, you have to enter your email that is in your everyday use.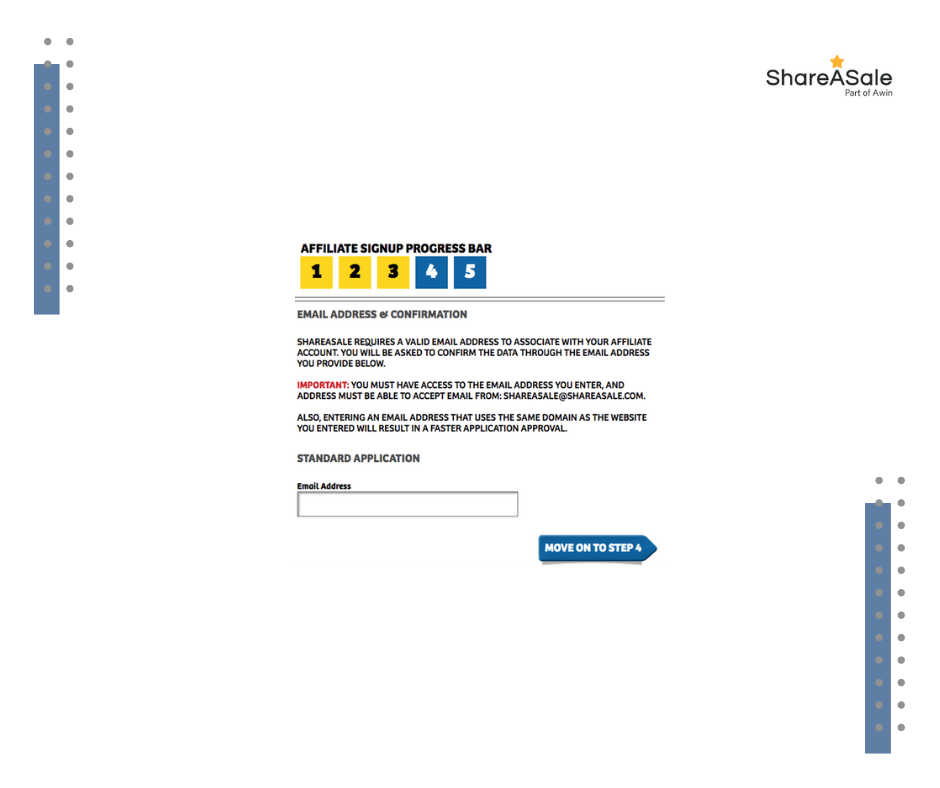 Now, you need to enter your details according to the picture below.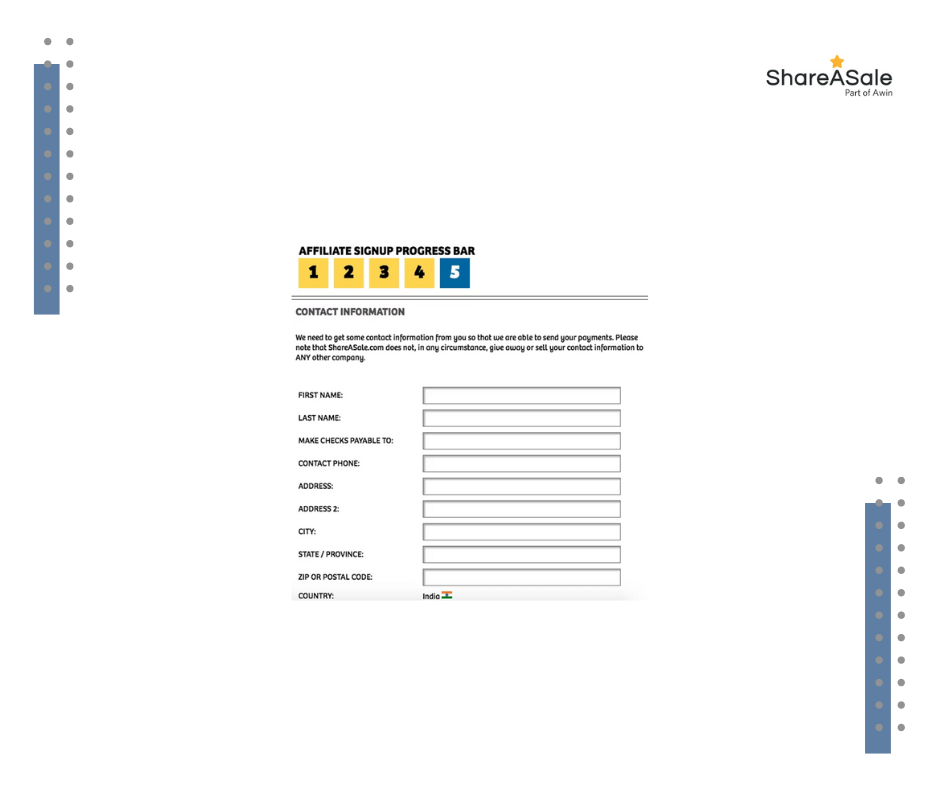 Let's move to the further step. Please enter your payment settings or skip this section to do it later. Congratulations! You have signed up on ShareASale successfully.
Check your email and click on the email confirmation link once you sign up on ShareASale. Let's confirm your email ID.
Your process of signing up is almost done. It might take 1-2 days to approve your ShareASale affiliate application. After approval, you can log in to the ShareASale dashboard very quickly and are ready to apply for ShareASale affiliate programs.
How to apply to Affiliate programs from the ShareASale Marketplace?
After login your ShareASale Affiliate account, land on your dashboard. You have to search & apply to merchant programs.
Take your mouse to a program in your Dashboard called 'Merchants' and tap on 'SEARCH FOR MERCHANTS'
let's Apply to merchant programs based on your categories & niches; also, if you know the merchant name, you can search by its name and go to their program description and bid on it.
After finding the merchant program, Tap on the 'Join Program button". Pro-tip is to; apply to 4 to 5 merchants in your niche so that you can focus on some programs and concentrate on promoting them only at the start of your journey.
You will get an email that notifies you of your approval or denial of your application, and it will take a few days, so be patient.
Once you get approval for the merchant program, you can start promoting the program and earn as much as you put effort into it.
Also, you will get a referral link known as a tracking link once you go to your applied program's dashboard. Furthermore, you will get banners to utilize on your ShareASale online website. If someone taps on your banner or link and makes a sale/action, you will pay a share of that Sale. And it's a fantastic method to earn.
Conclusion;
ShareAplace is an excellent affiliate marketplace for both affiliates and merchants. It's an exclusive platform that works as a bright and does amazing deals between both parties. In this write-up, we give a ShareASale Marketplace review and discuss all the essential information related to this Market place. Now, I hope so you're all the confusing points are resolved, and you can get a better start with the affiliate marking. But if you still need any guidance, you can directly contact us without hesitation.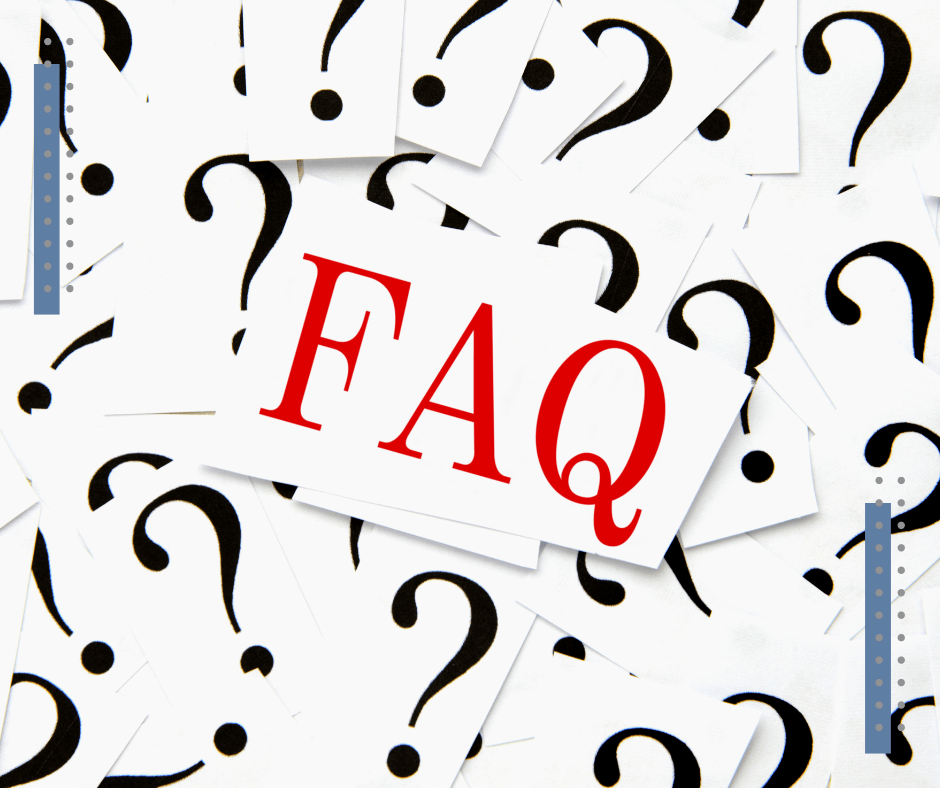 Frequently asked questions
How does ShareASale pay?
ShareASale affiliate marketplace pays affiliates marketers on the 20th of each month for the last month's transactions. Also, two scenarios are followed for the payment, pay Affiliates marketers can select to get paid by check, and the minimum payment is $50. They can upgrade this to a higher payment trigger amount if they would like. This process is done from inside their edit settings page near the mid. Affiliate marketers can also be paid by ACH direct deposit and wire transfer.
What is a ShareASale affiliate?
Affiliate marketers use ShareASale to search for products to promote and get a commission for referrals on those products or services. Affiliates use their affiliate website, blogs, social media, PPC campaigns, SEO campaigns, RSS & email, etc.
How many affiliates should I have?
Let the number of affiliate programs you join be not more than three on one site as a rule of thumb. Assure you do some thorough research about the affiliate programs you want to link before further steps. And also, assure me they're okay with you joining other affiliate programs.