Online shopping has grown steadily in recent years. In the year 2022, the United States had a total of 268 million people who shopped online. Online shopping is projected to increase this number to nearly 285 million by 2025.
But when running an e-commerce site, there's more than just selling products online—you need to convince people that your brand is worth buying from. That's where graphic design comes in.
Graphic design is the art of communicating ideas through visuals. By implementing it, your website will stand out from those in the crowded industry and attract more customers.
What Graphic Design Services Can Do for an Ecommerce Website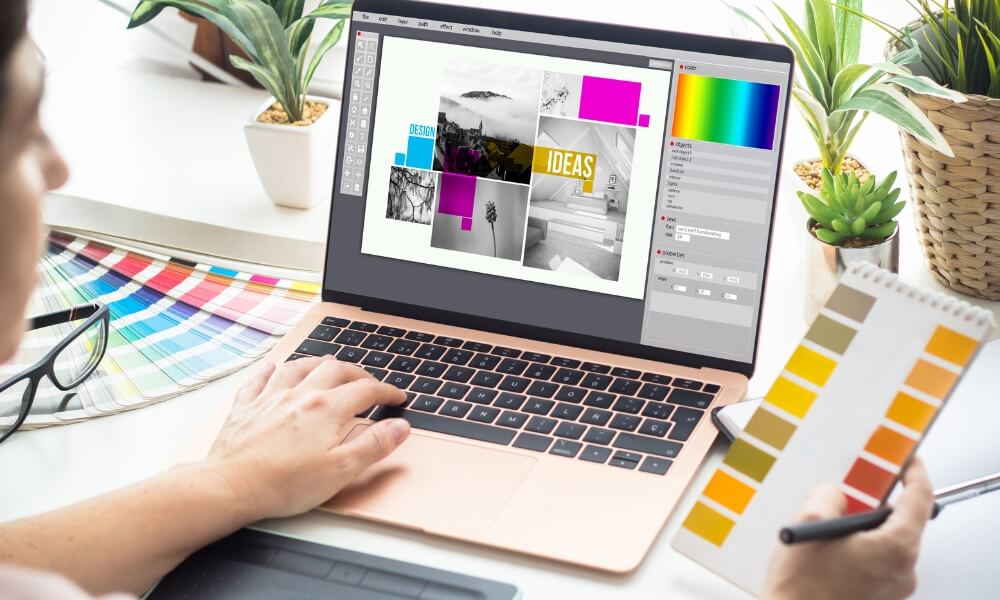 Your company's success depends on your website's design. It can excite or turn off potential customers because it's the first thing they see. If you have an e-commerce website, this is crucial as you build your online presence.
You need to be able to show off your products and services in the best possible way that's where graphic design services come in. Graphic design services can help you create a great-looking website that uniquely represents your products and services. They can even help you with things like logo design and branding so that your entire business looks professional and cohesive.
Tips for Creating an Outstanding E-commerce Site
Online commerce website design requires careful planning and attention to detail. eCommerce website design can be a powerful sales tool, but if you choose the wrong developer or don't plan your site adequately, you could waste time and money. That's why graphic design resources are so important for e-commerce sites.
eCommerce website design depends on many factors, from the number of products you sell to the space your customers have to browse. However, as a business owner, you can help your website get more leads. 
Here are the tips for creating a successful online shopping website:
1. Clean and Modern Design
A clean and modern design can help you get more leads and make your website look professional. A good graphic artist can create a unique design for your business that suits your industry and brand personality. They'll also ensure the site is easy to navigate and looks great on any device or screen size.
2. Mobile-Friendly Website
Your website must be mobile-friendly because most people use their phones to browse the web. You don't want mobile users to find your website unusable. eCommerce needs responsive designs. A responsive design makes your website adapt to any device.
3. High-Quality Product Photos
Product photography is often overlooked in e-commerce website design. Stock photos are tempting for businesses but bad for website design. Stock photos don't benefit website visitors because they don't look professional.
The images on your website should be high-quality, relevant to your content, and appealing to your target audience. To showcase your products' quality, hire a professional photographer. Use high-quality images that speak to your customers to create a memorable experience.
4. Clear Call-To-Action (CTA)
Your website's CTA button or link encourages customers to buy. Ensure it's visible and appealing to customers, so they know what to do next. A button with a downward-pointing arrow and descriptive text is the most effective call to action. It should draw attention without being overwhelming.
5. Focus on Branding
Branding is crucial to any website, including e-commerce sites. It's vital that your site's brand identity is consistent and gives customers the impression they expect. This includes considering your desired image, tone of voice, colors, and more.
Define and incorporate your brand into your e-commerce design to maximize its potential.
6. Choose the Right Colors
An eCommerce website's color scheme is one of its most important features. It can make or break a customer's trust in your brand.
Choose a color scheme that matches your brand and appeals to your target market. Consider the colors used on other websites in your industry. This will help you avoid using a color scheme that others have overused and thus, help you stand out.
7. Provide Scannable Content
People don't always read everything. Make your important things visible and easy to find. Product descriptions, blog posts, and "about us" pages should have a simple structure. Use bulleted lists to break up large blocks of text, be concise, and bold the most important information.
Your audience will retain the most crucial information if your content is scannable, which increases your chances of making a sale.
8. Make It Look Professional
Your eCommerce website should encourage your visitors to make a purchase. For example, if you are requesting sensitive information like credit card details, they won't feel comfortable providing this if your website doesn't look professional.
If you want your online store to succeed, you need a professionally designed and maintained website to gain customer trust. Your website must be error-free, and the font, color palette, and footer should be consistent across all pages. Product links and buttons should work accurately.
9. Create a Great Logo
A logo is the first thing visitors to your website see, so it must convey professionalism and set you apart. Your company's logo should stand out and not use too many colors or fonts.
Have a creative logo design that clearly communicates your brand's message without overwhelming visitors with information or colors that could distract them from their primary goal—shopping on your site.
Conclusion
When it comes to running an eCommerce site, you must keep track of a variety of factors. Inventory, customer loyalty programs, and analytics are all important components of your business. However, one thing should never be overlooked: the design of your website. A website is more than a place to display products and collect orders. It is a reflection of your brand.
The graphic design of an eCommerce site is a critical component. This is the first impression that your website makes and it can either make or break your business. Take advantage of graphic design if you wish to increase your sales.
FAQs
What are the benefits of hiring a graphic designer?

Graphic designers are experts at creating beautiful websites that look good and convert well. A professional can help you create a site that looks great and meets your target audience's needs.
Do you have any tips for getting the most out of your site?

One of the most critical aspects of an eCommerce website is its functionality. Therefore, each new design must be tested on real viewers before implementation. To determine whether your designs are intuitive enough for all users, try them with as many people as possible before launching your website.
How do I choose website colors?

Choose colors carefully to convey the correct attitude or state of mind when possible. Do you want your website visitors to feel happy, relaxed, or energized? When choosing colors for marketing materials, consider how the audience will relate them to your products.