Content writers who specialize in SEO are paid more than those who do not. Do you know why? The answer is simple. SEO content writers know the tips and tricks to rank their content higher in SERPs (Search Engine Results Pages).
So, if you also want to learn the tips and tricks to rank your content higher in SERPs, then we've got you covered here.
In this blog post, we'll share the five actionable tips that will assist you in writing content according to the latest guidelines of search engines. So, without any further delay, let's delve into this discussion.
What is SEO-Friendly Content?

Content that is optimized for search engine algorithms is known as SEO-friendly content. Content writers write SEO-friendly content by optimizing it for relevant keywords and phrases. This way, it becomes easier for search engines to understand and index.

SEO-Friendly Content Writing Tips for Beginners

SEO-friendly content is essential because it helps search engines understand the content on a website and rank it higher in search engine results pages. So, let's see the tips and tricks to create such a type of content.
Conduct Keyword Research
One of the most important things in SEO content writing is keywords. Therefore, the first item in an SEO-friendly content checklist is to find the appropriate keywords.
Generally, search engines take assistance from keywords to understand the content. So, when you optimize your content for specific keywords, it assists search engines in displaying that content for relevant search queries. This activity eventually increases the organic traffic on your website.
However, you can't use any keywords because only relevant ones will be useful in SEO content writing. So, you will have to use a keyword research tool to conduct proper keyword research.
But keyword research is of two types. So, let's see how you can search keywords for both types.
Primary Keyword Research

As the name depicts, the primary keyword is the main or focus keyword of content because it represents the focus of the content. But due to its importance, beginners select as many keywords as possible to optimize their content. So, if you do the same, Google will penalize your content.
Thus, picking one primary keyword and using it naturally is an excellent practice. But there are a few things to consider when selecting a primary keyword through a tool.

Monthly Search Volume

The first keyword metric to consider while selecting a keyword is its monthly search volume. The term 'monthly search volume' estimates how many times people search for a particular keyword in a month.
It is an excellent practice to target the keywords with higher monthly search volume. But if your website is new, it will be challenging to rank for keywords with heavy monthly search volume. In such a situation, you can use long-tail keywords.
Long-tail keywords are more specific than their primary (keyword) counterparts. So, they generally have higher conversion rates and lesser monthly search volumes than their main (keyword) counterparts.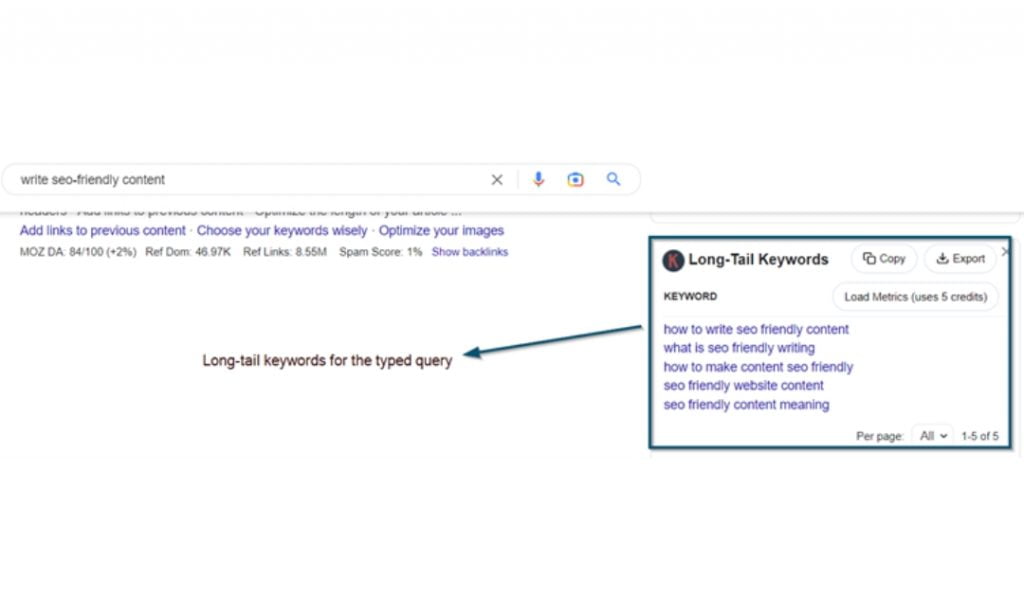 Keyword Difficulty (KD %)

Another metric to look for during keyword research is its KD %. It generally refers to the difficulty of ranking in the top 10 results of Google for a particular keyword.
Thus, a keyword with a higher KD % will be more challenging to rank for than a keyword with a lower KD %.
Secondary Keywords (LSI) Research

Secondary keywords are the supported keywords of a main or focus keyword. Since these types of keywords revolve around the main keyword, they shouldn't divert the direction of content.
You can consider the same criteria (KD % and Monthly Search Volume) for selecting the LSI or secondary keywords through a keyword research tool. But you can also use Google's related searches and search predictions to choose secondary keywords.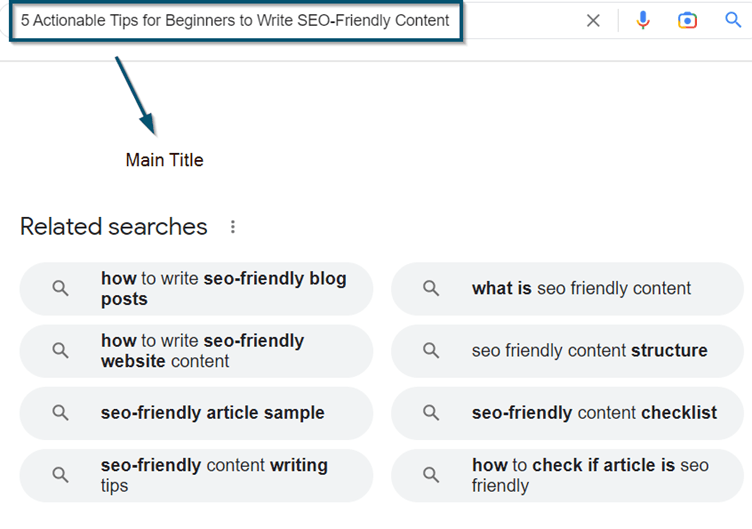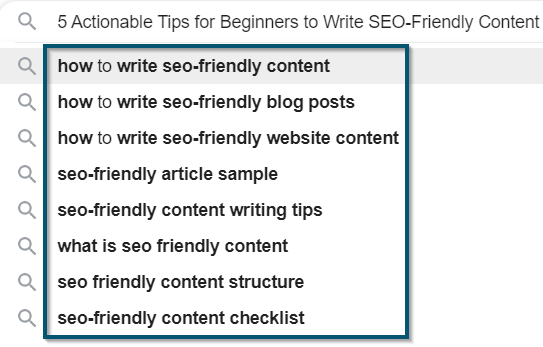 Write a Catchy Title or Headline

Once the keyword research is done, developing a catchy and exciting headline or title is the next step in making your content SEO-friendly.
The headline of a web page does not directly impact its ranking, but it affects the CTR (Click-Through Rate). That's because a catchy headline urges people to click on it and check what's inside the post. So, while writing the title, you should remember the 80/20 rule.
Research shows that only 20% of people read the content, whereas 80% of the people read the headline of a web page and move on. So, to increase people's engagement, you should create an eye-catchy headline.
Some Tips for Writing a Headline
Here are some tips that will help you write an SEO-friendly headline:
• The first and foremost principle for making your content SEO-friendly is to use your focus keyword in the headline or title naturally.
• There is no rule of thumb for the ideal length of a title because Google uses pixels instead of character count. So, if you want to ensure that your title looks good in SERPs, you can use a SERP preview tool.


• Include the focus keyword in the title as early as possible. However, this should not ruin the natural look of the title.


• Use emotional words and modifiers while writing a headline because such terms increase the likelihood of urging the readers to click on your content.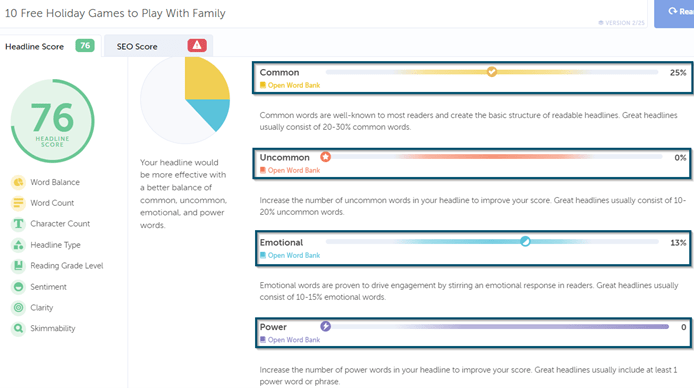 • Include numbers (as digits, not the spelled-out form) in your headline. In fact, according to BuzzSumo, when it comes to including numbers, number 10 causes more people's engagement.

• Use brackets while writing headlines because, according to research, parenthesis can improve the CTR by 38%.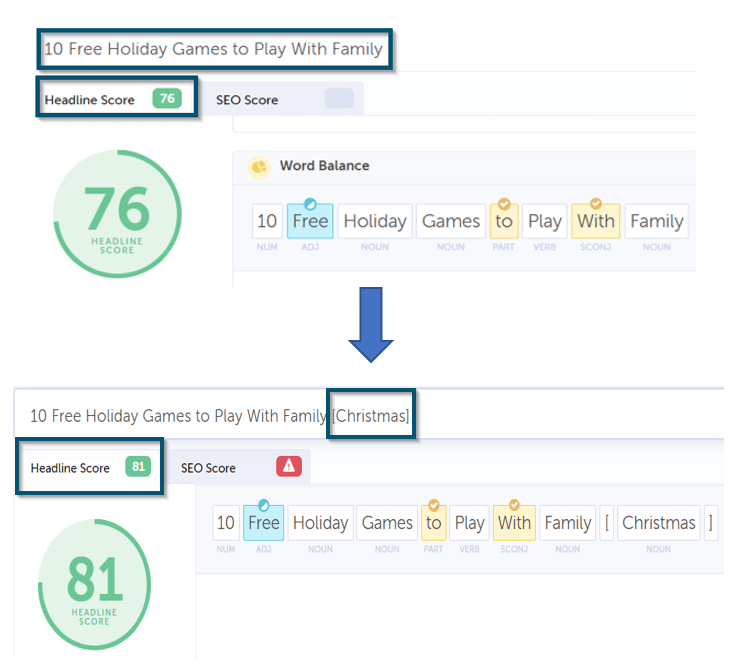 Properly Structure Your Content

Tip number 3 for beginners to write SEO-friendly is organizing the different portions of your content correctly.
Generally, there are three portions of the content. So, let's see how you can work on each part properly to produce SEO-friendly content.
Introduction

Once you've grabbed readers' attention with an eye-catching title, you should make the next few seconds count. How? Well, you can easily do that by writing a captivating introduction.
The introduction of SEO-friendly content should contain 100 or fewer words. Therefore, you should naturally include the keyword once in the first 100 words of your content.
Besides, if you have trouble writing an introduction, you can use the PPT formula because it divides the introductory part into three parts:

Preview

As the name depicts, the preview part of an introduction will be its first line. So, it will give the readers a sneak peek of what they are about to find out on a particular web page.

Proof

In the next few lines, you will show the readers why you are qualified to discuss the topic. Therefore, you will have to use proofs. For instance, you can include the following:
 Personal results or the number of people you've helped over the years.
 Your experience.
 And even your certifications.

Transition

The last part of the PPT formula should smoothly inform the readers to dig deep into this topic and find out more. So, you can use phrases like:
 Let's delve in.
 Let's begin.
 Let's dive into this discussion.
Let's consider an example of an eye-catching introduction written through the PPT formula: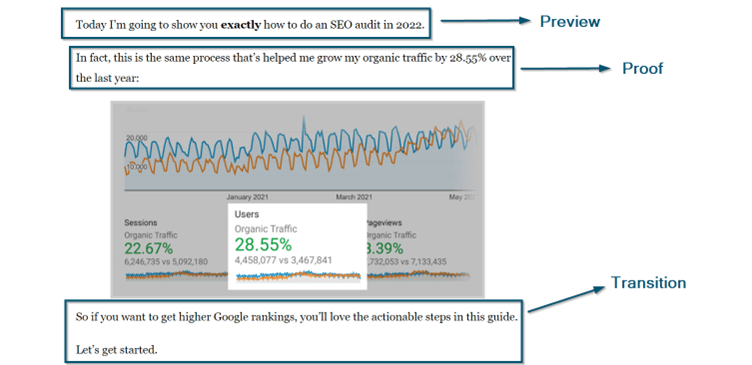 Body

When it comes to the body part of the website content, there is no exact template. But to maintain the SEO-friendly content structure for the body part of content, you can consider the following tips:
 Use Conversational Tone
Writing in a conversational tone is an excellent approach (you and I, we). So, follow this approach because it will connect the readers and increase your content's engagement.
 Write in an Easy-to-Read Language
The key to SEO content writing is to keep your readers engaged. Therefore, another ideal way to do this is to write in an easy-to-read language.
However, if you cannot write in an easy-to-read manner without compromising the quality of the content, you can take help from the AI-based article rewrite tools like Article rewriter by Editpad.org or Closerscopy.com.
Here is an example of how AI-based best article rewriters change the wording into an easy-to-read language without compromising on content quality: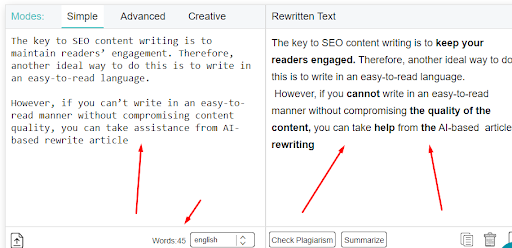  Use Short Paragraphs and Bullet Points
Another excellent way to increase content readability is to divide complex information into bullet points. Doing so will help you in explaining the confusing points easily.
 Take Assistance from Headings and Subheadings
Divide the body of your content into H2, H3, H4, and even H5 sections. Doing so will make it easier for readers to follow what's happening, eventually increasing the reader's experience of your platform.
Conclusion

According to a study, 79% of people skim through the content instead of actually reading it. That's because they get the gist of a discussion by reading the conclusion section. So, concluding the discussion is an important and one of the most overlooked aspects of SEO.
Thus, like the introduction, there are three parts to writing an SEO-friendly conclusion:
 Summarize the Main Message of Your Content
Generally, a perfectly written conclusion often starts by summarizing the entire discussion in 2-4 lines. So, consider what you want your readers to remember from your content while summarizing.
Similarly, you can also create a connection with the introduction while summarizing your topic. And to make your conclusion SEO-friendly, you can naturally use your focus keyword, ideally in the first sentence.
However, if you have trouble identifying the main parts of your content while making it concise, you can use an AI-based text summarizer by Summarizer.org. You can see how it works in the image below: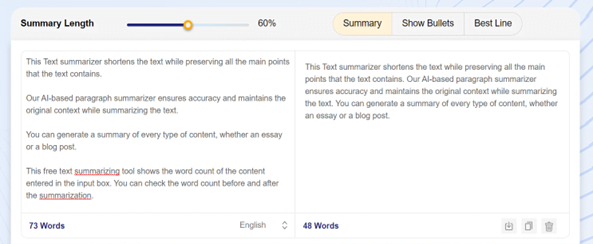 Answer Why Your Content Is Important

After summarizing your content, write a few sentences about why your content is vital for your target audience.

Insert a CTA (Call to Action)

Lastly, you can close your discussion by telling the readers what they should do next.
For instance, you can link them to one of your web pages. Similarly, if you are writing about gaming computers, you can trigger them to enjoy gaming with your PC.
Let's consider an example of a perfect SEO conclusion written by Yoast SEO and see how they have implemented all the above-discussed tips:
Include Visuals and Add Their Alt Attributes

Modern SEO is not all about keywords. The experience of a page also matters. However, text alone can ruin the experience and engagement of content because it is the nature of humans to get bored after reading an all-textual post.
Thus, if you want to maintain the experience and engagement of your content, you must leverage different media types (images, videos, infographics, GIFs, podcasts) in your content. But the included media must be original, or you must have the right to use a particular media. Otherwise, your platform can fall into content legitimacy issues.
However, including visuals is not enough for SEO. Therefore, you should also consider the following things regarding using visuals in your content:
• Do not use generic names for your media. Instead, rename media to something meaningful before including it in your content.
• Like the content of a page helps search engines understand its intent, the Alt text makes it easier for search engines to understand the purpose of images. So, do not forget to include the Alt text of the included media. Doing so can also bring traffic to your platform from images.
Don't Forget to Add Internal and External Links
The last actional tip for writing SEO-friendly content is to include external and internal links.
The term 'internal links' refers to linking to the other web pages of your website. On the other hand, 'external linking' happens when you add links to other websites in your content.
Both types of links benefit the content and platform in their own ways. For instance, internal linking will decrease the bounce rate of your platform and make the readers stay on your platform for longer. However, external linking will help gain readers' trust and make your content and research more authentic.
Thus, the added internal and external links should be relevant to your content. Otherwise, your content will become spammy.

Conclusion

Write SEO-Friendly Content, write catchy titles, using headings and subheadings, writing quality content, and optimize media; you will increase the likelihood of higher rankings in search engine results from pages.
But search engine optimization is vast, as it involves much more than keyword research and media optimization. For instance, the audience's intent and the technical aspect of SEO are vital to modern SEO. However, these critical modern SEO factors are for experts, not beginners. Therefore, we have not discussed them in the above guide.
Thus, if you are a newbie, read the above discussion to write SEO-friendly content from scratch.